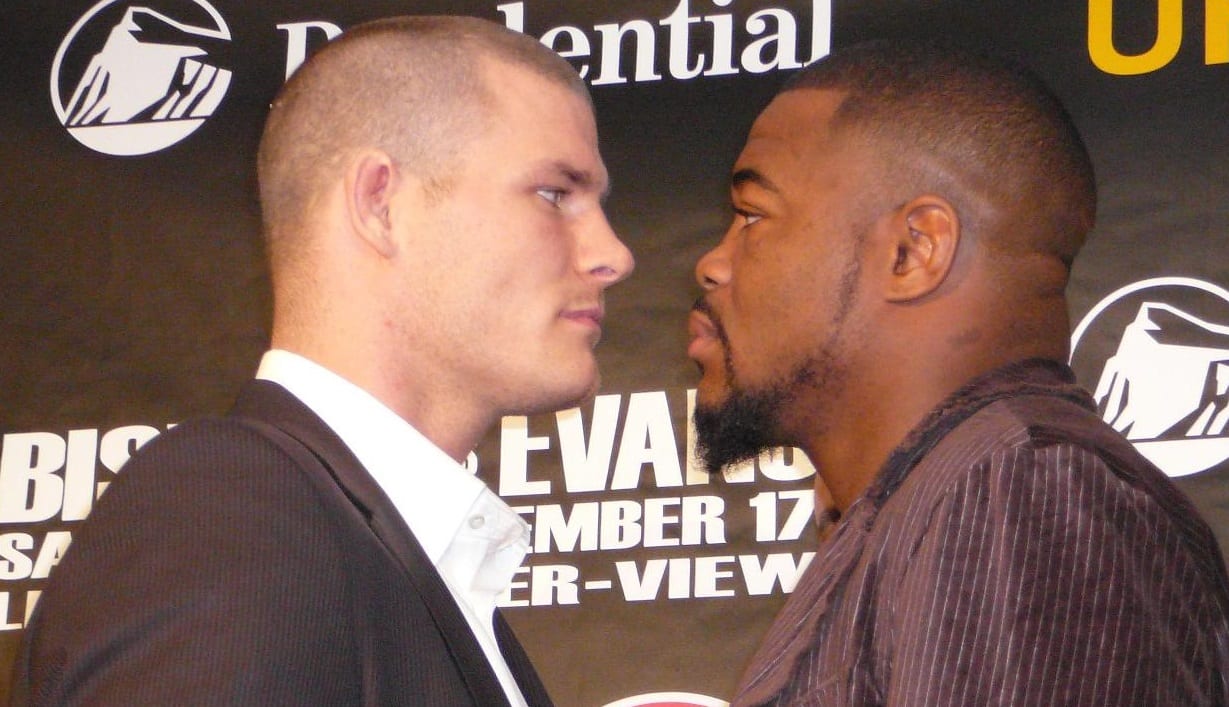 Next month's UFC event in London has come under fire from some sections of the mixed martial arts universe for what appears to be an event cobbled together  at the last moment, and without representation from the biggest UK fighters on the organisation's roster.
While Jimi Manuwa (who is a big draw in London) competes on the co-main event against Jan Blachowiscz, as well as appearances from home-based fighters like John Phillips, Paul Craig and Leon Edwards, but the lack of a Michael Bisping or a Darren Till atop the card has left the UFC's return to the English capital feeling slightly hollow.
It wasn't for a lack of trying, though.
Rashad Evans, a former UFC light heavyweight champion, has revealed that the UFC attempted to book a rematch between him and Michael Bisping in what would almost certainly been the card's main event, but the British fighter was ultimately unable to agree terms to make the deal.
Evans and Bisping met once before in the UFC more than ten years ago when both fighters were still undefeated in their careers. Evans came away that night with the split decision victory in a bout that was contested at 205-pounds. Bisping would move to 185-pounds immediately after this fight, where he would eventually become champion nine years later.
Bisping had long considered the UFC's return to London as being the ideal time to hang up his gloves. This was certainly the plan after his defeat to Georges St-Pierre at UFC 217 in November, though the manner of his knockout loss just three weeks later at the hands of Kelvin Gastelum first raised doubts as to whether Bisping would be ready to compete in March.
In the end, it didn't matter. The UFC made contact with Evans and he appeared optimistic that the fight could be made but doesn't blame his former opponent now that the proposed bout fell through.
"I got the call, and I thought it was going to happen, but things didn't work out on the negotiating side between the UFC and Bisping," Evans said to MMAJunkie Radio.
"I don't know exactly what it was about, but I guess the talks broke down after the (bout) agreement happened.
"I think it was contract stuff. I think Bisping is near the end of his contract, and I know he's been talking about retirement. … I'm guessing somewhere along the lines of where the UFC could use Bisping and where he ultimately wants to be. I don't think there was an agreement."
A meeting with a recent champion like Michael Bisping represented an opportunity for Evans to score a big name win after coming up short in his last four bouts at middleweight but 'Suga' doesn't blame Bisping for not coming to terms with the UFC.
"For him, trying to get the bread, hey, get as much money as you can," Evans continued. "Because at the end of the day, this is a sport we can't do forever. So I'm never against somebody making as much money as you can."
UFC London takes place on March 17th and will be headlined by a heavyweight bout between Fabricio Werdum and Alexander Volkov.
Comments
comments