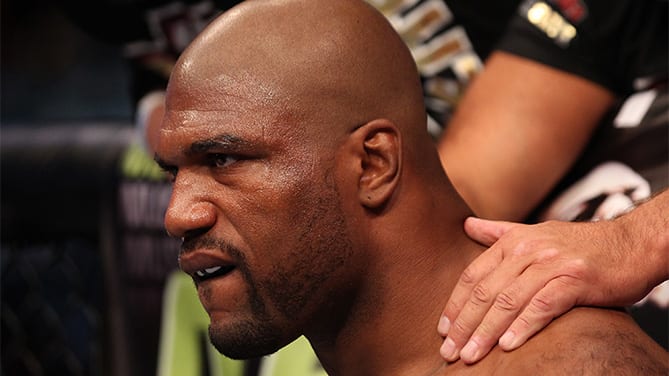 Despite the not insignificant fact that Quinton 'Rampage' Jackson is now a heavyweight, that hasn't stopped him from once again fixing the familiar face of Wanderlei Silva squarely in his firing line.
Jackson, who was defeated by Chael Sonnen in the first round of the Bellator MMA Heavyweight Grand Prix last month, and Silva combined for one of the most memorable MMA feuds throughout their veteran careers. The two fighters first met 15 years ago in the final of the PRIDE Middleweight Grand Prix, with the Brazilian claiming a knee KO victory. Less than a year later their paths would meet anew and once again it was Silva's knees which brought an end to the bout.
Jackson would garner a measure of revenge when the two met for a third time, this time under the UFC banner, when Jackson scored a swift one-punch knockout of his rival.
Nowadays the two fighters are once again united on the roster of Bellator and despite the fact that Jackson hasn't competed at 205-pounds in his more recent contests, he still wants to even the score in the long-lasting feud.
On a recent edition of The MMA Hour, Jackson spoke of his plans following his loss to Sonnen and said that a fourth bout with 'The Axe Murderer' makes sense for all parties.
"I owe Wanderlei another ass whooping, I'll tell you that," Jackson said to Ariel Helwani. "I know he's not a heavyweight. The last time I fought him I knocked him out of the weight class. But he beat me twice. I only beat him once. I think I owe him another ass whooping."
The fact that Jackson weighed in at 253-pounds for his heavyweight bout with Sonnen implies that if any Jackson vs. Silva match is to come to fruition, it will likely have to come in unfamiliar hunting grounds for the Brazilian. Silva has fought the majority of his career at 205-pounds. He hasn't fought since losing a decision of his own to Chael Sonnen last summer.
"I probably could get down to 205, but I don't know," Jackson said of his weight. "I'm walking around at 250, 260. That's a big one.
"But like I said, Wanderlei is not a heavyweight. I probably could get down to 205 now that I've got my nutritionist."
However, Jackson is keeping an eye fixed on the heavyweight tournament from which he has been eliminated and says that he will be ready for whoever emerges with the heavyweight title at its conclusion.
"My motivation is still the heavyweight belt," Jackson said. "Even if I'm out of the tournament, whoever wins that belt I'm gonna challenge him right away."
Comments
comments