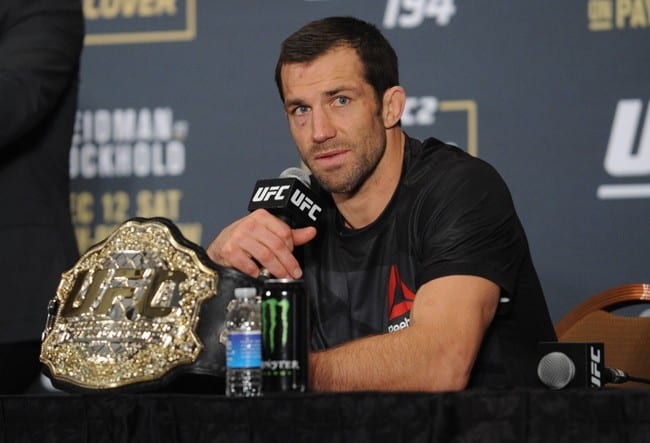 Luke Rockhold, a former UFC middleweight champion, aims to get back to the top of the mountain once again at 185-pounds and the next step to doing just that comes this weekend at UFC 211 in Perth, Australia.
Rockhold was initially scheduled to meet new champion Robert Whittaker in the featured bout this Saturday before health complications as a result of a staph infection caused Whittaker's withdrawal from his first title defense. In his stead, Rockhold now faces fellow top contender Yoel Romero with the winning claiming the division's interim title — a move mandated by Whittaker's inability to defend his championship currently.
The winner of the Rockhold/Romero scrap will almost certainly face Whittaker for the undisputed title once the Australian is healthy. No matter for Rockhold, though, as he sees this weekend's tilt as being for the "real" middleweight strap.
"This was bound to happen one way or the other. Whittaker would have been first, Yoel would've been second," Rockhold said at the UFC 221 media day as quoted by MMAFighting.
"Yoel's first, so Whittaker will be second. I'm up for the task. I'm not lacking in any way. I'm prepared to fight the best guys in the world. It's a shame it's not gonna be for the undisputed title but Whittaker beat Yoel to be the interim champion. I'm gonna beat Yoel to be the interim champion. It's a matter of who did it better is gonna be the real champion at the end of this thing. So that's the way I see it."
Rockhold has fought just once since losing the middleweight title to Michael Bisping in the summer of 2016, a two-round pummeling of David Branch last September. In the same time-frame Whittaker has competed three times in the octagon, scoring knockouts against Ronaldo 'Jacaré' Souza and Derek Brunson. He followed that up with a decision win against Romero to claim the division's interim title. This was later commuted to the official championship following Geroges St-Pierre's decision to relinquish the title following his own title win in New York last November.
And it's with this common opponent — Yoel Romero — in which Rockhold intends to stake championship claims.
"I think it speaks for itself. I've beaten Jacare. I've beaten every other guy in this division. I've got a way more impressive resume. He beat Yoel to be the interim champion. I take nothing away from Whittaker. I have all the respect for him. He's a gangster in this game, but if I beat Yoel and I put him away, who did it better? He had a close fight. That was 2-2 going into the fifth [round]. He showed his championship skill and he pulled through that fifth round. He won. But if I can do it better, who did it better? Who's the best? That's what I plan on doing."
That said, Rockhold doesn't envisage an easy task this weekend. He, Romero and Whittaker, Rockhold says, have emerged as the division's best fighters but it's up to him to ensure he is at the top of the line when all is said and done.
"I don't see this as merely anything. This is as real as it gets. Yoel is as dangerous as they come. This is in that same realm [as the Whittaker fight]. This is real, so I'm prepared to leave myself in there and take him to that place that he doesn't want to be. This is as dangerous as it gets. Yoel calls himself 'The Soldier of God,' yet he talks about crippling and hospitalizing his opponents. That makes it all the more real. We're not playing games. This is for keeps. This is the real f**king deal. I'm ready to go."
Comments
comments