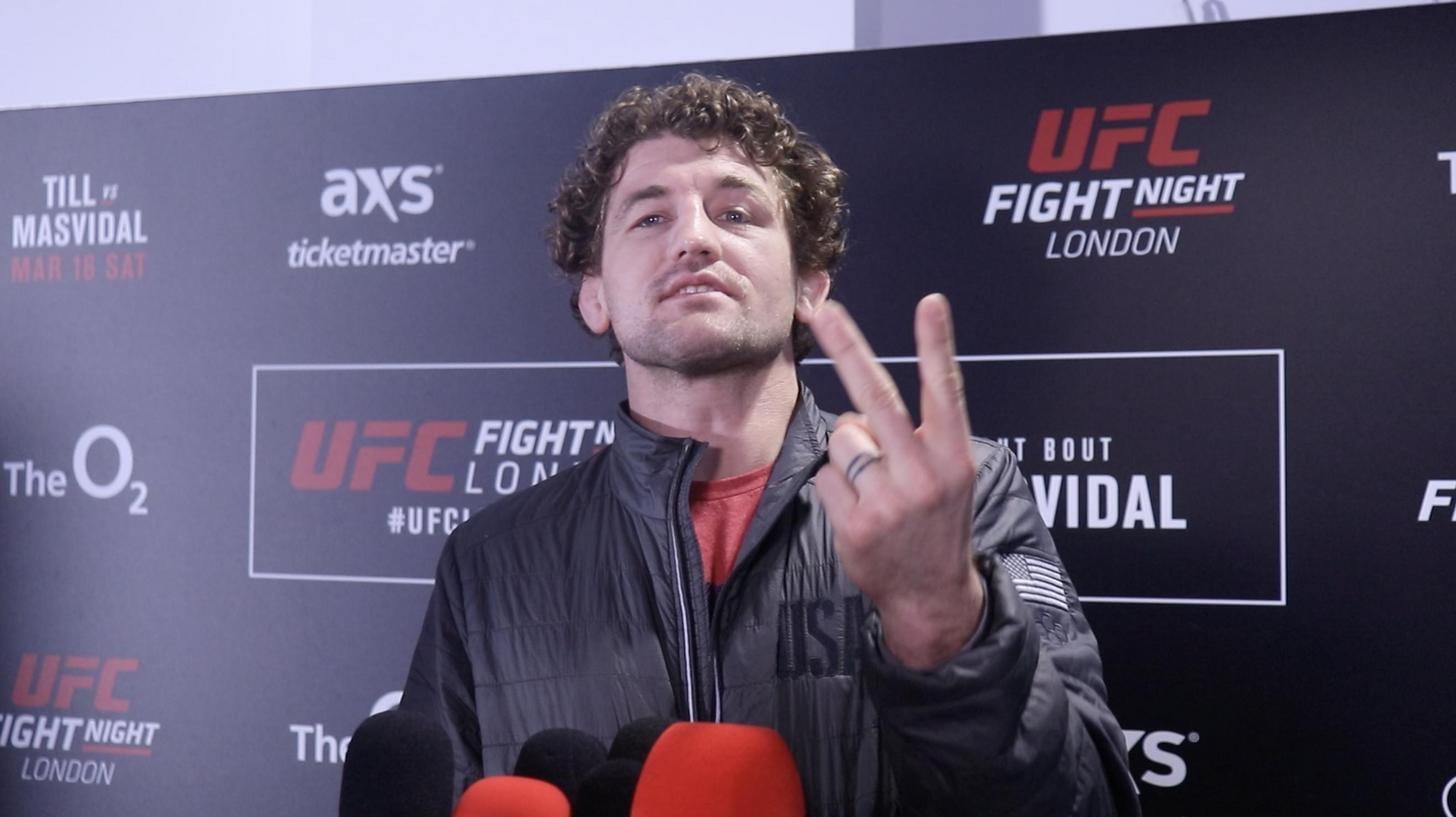 Say what you will about Ben Askren but since joining the UFC welterweight roster last year, he has proven himself more than capable of getting under his fellow 170-pound fighters' skin.
Current champion Kamaru, or 'Marty', Usman is known to not be a fan, while Askren has also bickered with the likes of Darren Till, Colby Covington and others in recent months, and now you can add his UFC 239 opponent Jorge Masvidal to the list.
While the two have been going back-and-forth for months, Askren appeared put out when addressed comments Masvidal made in the media recently in which he said he was going to 'end' Askren's bloodline on July 6 when they meet in the UFC cage in Las Vegas — something Askren says will be difficult because he already has three children.
"I just want to f— him up. I don't think anything of him," Masvidal said to CBS Sports. "I'm going to make sure his bloodline doesn't reproduce or nothing after July 6. Extinction of the Aksren blood by the Masvidal blood."
Akren duly responded, telling ESPN: "He knows in a battle of words, it's going to get ugly for him. We talked about it earlier how he has this insane amount of dislike. He said something fucking ridiculous last week about how he wants to end my bloodline which I thought was hilarious because I already have three kids. Unless you plan on murdering the rest of my family which is pretty sick and disturbing, you're not gonna end my bloodline Jorge 'cos I have three children.
"When you say stuff that is as crazy as that is, it's so obvious that I'm under your skin.  I make you upset, and you can't even verbalise why I make you upset. You know if we come in contact again, that's only going to get worse. It going to get worse and worse and worse. And generally speaking, a high majority of the time, people who are that angry fight very poorly."
The time for talking is coming to an end as Masvidal and Askren will meet in their highly anticipated UFC 239 main card bout on Saturday week.
Comments
comments