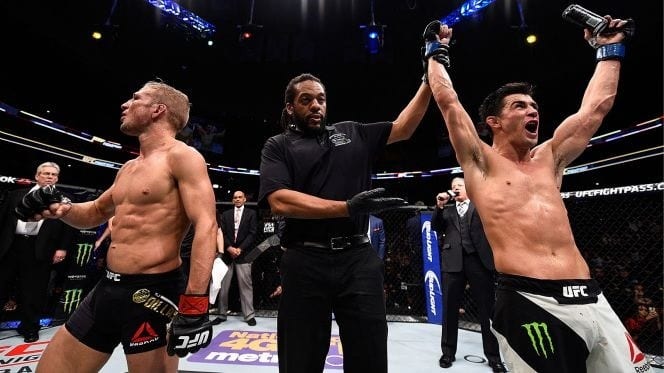 Even though Dominick Cruz looks set for another extended spell on the sidelines owing to injury, that hasn't stopped him from throwing barbs at rival T.J. Dillashaw.
Dillashaw, who regained the UFC's 135-pound title last year with a knockout of Cody Garbrandt and subsequently defended against the same fighter some months later, is set to drop down to the flyweight division (however temporary that might be) to challenge Henry Cejudo in a bid to become the latest double-champ on the UFC roster in a month from now.
Cruz, though, apparently isn't a fan of Dillashaw fighting outside of the division in which he reigns over and he says it is even causing him to 'miss' his former Team Alpha Male rival Urijah Faber.
"I never missed Faber so much, and I never thought I'd say that," Cruz said on Ariel Helwani's MMA Show on ESPN.
"But he is a real champion. And you think about who we've got there now, T.J. Dillashaw… runs for the fences. I mean, he's got (Marlon) Moraes begging, knocking at the door. He's got (Raphael) Assuncão banging at the door with these wins. He's got myself, who was not begging, but was more than ready and the fans were more ready than me or anybody else to see that fight.
"And what did he do? He ran for the fences. He dropped to a division that's already ending. How does that help anybody but himself? It doesn't. And it doesn't build the division. It hurts the division.
"So what are you really doing this for? You're doing this to try to get another belt for yourself. And I get it. Facing an Olympic gold medalist in Henry Cejudo is not some easy task. I'm not saying that by any means. But what does it do for the division? Like, what are you really doing?"
Cruz continues his point, stating that when the champion fights outside of his division it hurts the remaining fighters in that weight class, most of whom must sit by while the champion of their weight class tests himself elsewhere.
"And I don't hate T.J. Dillashaw, but the way he hops around is very interesting to say the least. I don't see him being a champion that helps our division at all. I see him going to a place where he goes, I'm not getting the sales. That means people aren't watching me.
"So fuck everybody, I'm going to worry about myself. That's what I see from T.J. Dillashaw right now. And that's what I saw him do to Team Alpha Male. And that's why Faber and him had such a beef, because he came from such a selfish, selfish standpoint while Faber gave a lot to them."
Comments
comments