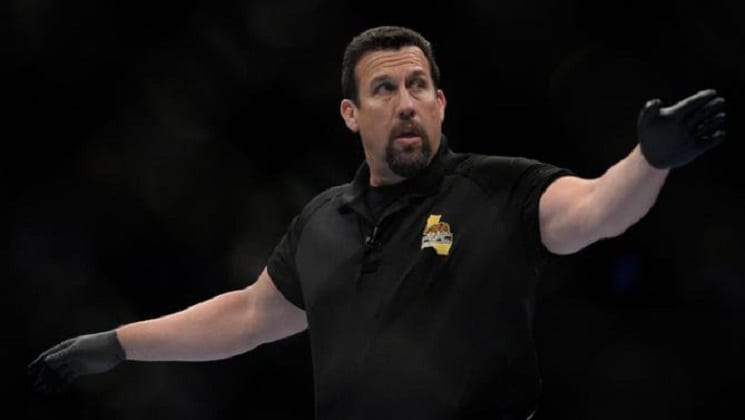 Former referee and now on-air Bellator personality 'Big' John McCarthy is credited with having one of the most robust understandings of the intricacies of the mixed martial arts ruleset and he has provided some clarification on one of the more controversial instances from last weekend's UFC London.
In the third round of a back-and-forth battle between England's Danny Roberts and Brazil's Claudio Silva when, in the final round, Silva — who was second-best on the feet — locked in what locked like a tight armbar which elicited an audible (to the ref at least) scream from the Englishman. Moments later, the fight was over despite the fact that Roberts didn't tap.
Now, verbal submissions usually occur when a fighter 1) is in a position where the physical act of tapping the mat or the opponent is impossible or 2) when a fighter says 'stop' or 'tap'.
Neither of those apparently occurred in this fight, with the referee stopped the bout when he heard Roberts cry out in pain. This caused some controversy online and elsewhere, with people from Dan Hardy to John Kavanagh saying that a little more leeway should be applied to fighters in submissions sequences such as this.
Well, apparently not.
A scream of pain is to be considered a verbal tap by the referee. But, it must be a scream. I use to tell fighters all the time I will let you grunt, groan or summon the gods of stupid strength with a Arrrggghhhh, but don't scream out like you just turned into an 8 year old https://t.co/w2RFKAiJTk

— Big John McCarthy (@JohnMcCarthyMMA) March 18, 2019
As McCarthy notes above, a scream is considered to be a verbal tap per the official rule of mixed martial arts. So now you know.
Comments
comments