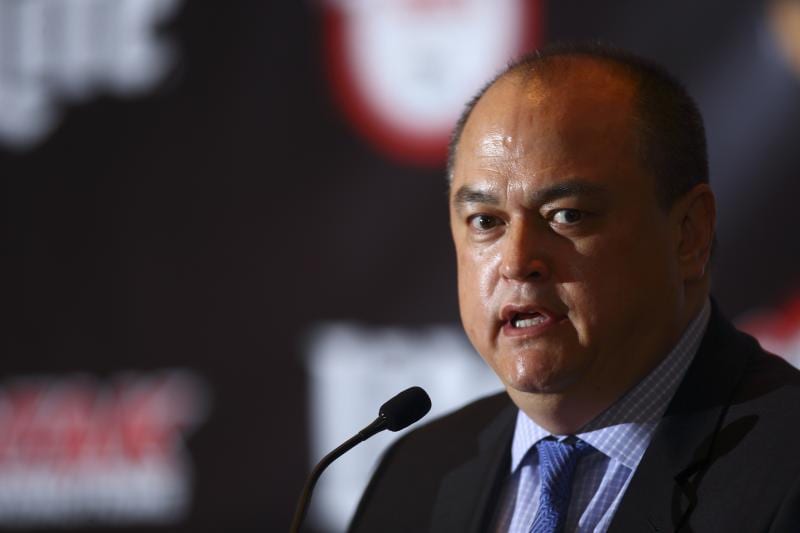 It can't be an easy decision to cancel a main event fight — particularly when it features one of the highest profile names on your roster — just hours before the entire show starts. But, that's the move Bellator MMA president Scott Coker decided to go with.
When Matt Mitrione was forced to withdraw from his fight with MMA legend Fedor Emelianenko at Bellator 172 with kidney stones this evening, Coker had to decide whether to find a (basically literal) last minute opponent for the Russian, or to scrap the main event and attempt to reschedule it at a later date. And, even though a few names were prepared to stick on a pair of gloves and have at it, it still wasn't an easy call.
So who exactly got in touch to let Coker know they were ready? Well, perhaps unsurprisingly, Chael Sonnen.
'The American Gangster' was in San Jose to carry out commentary duties for the nights event, and when he heard rumblings about Mitrione's falling ill, he grabbed the phone and text Coker immediately. After Sonnen, the man who defeated him last time around Tito Ortiz threw his name out there.
"I got calls from Chael," Coker said, speaking with MMAJunkie. "'Put me in coach.' Tito Ortiz texted me. 'Hey, put me in.' I'm like, 'We can't just do that. It's not that simple of a process.' And then we just ran out of time.
"Doors were opening at 3 o'clock. We had to decide, 'Are we going to pull it? Or are we just going to continue to try and wait another half-hour, which means all the fans are standing outside?' We just ran out of time, and we said, 'Look, we'd rather just pull it. The fight's off.'"
#Bellator172 looks like I need to step up for the company! @BellatorMMA

— Tito Ortiz (@titoortiz) February 19, 2017
While it must have been tempting to accept the offers, with Fedor's name likely being the key reason for fans to tune in, Coker eventually felt that a short term fix could offer long term problems.
"For Chael to say he wants to do it … what if we put him in there and he has no time to train?" Coker said. "For me that was one of the biggest issues of his last fight, and [if he lost] now he's 0-2 and it just didn't make any sense."
"Tito, I was like, come on you're retired. I think he was actually half joking when he text me. We had a couple options, but when it finally came down and we found out the true diagnosis and once we found that out, we're not going to continue."
Comments
comments