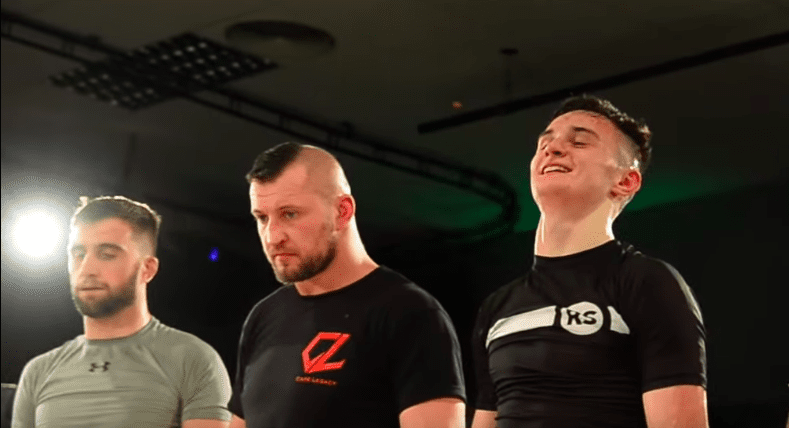 Lee Hammond, a part of Team Ireland who are currently in the Kingdom of Bahrain to chase gold in the International Mixed Martial Arts Federation World Championships, has won his first match in the tournament.
Hammond, who is competing in the lightweight division, defeated Moldova's Tonu Stefan via second round submission.
RESULT (Cage 1) Lee Hammond (IRE) Def. Tonu Stefan (MOL) 2:01 Rd 2 Submission (Gogoplata/RNC Hybrid) #MMAWorlds2018 #Bahrain
WATCH LIVE at https://t.co/gGLEn8YCbb

— IMMAF (@IMMAFed) November 12, 2018
how does that even……what? https://t.co/d0WAcsyVSs

— Coach Kavanagh (@John_Kavanagh) November 12, 2018
It was an omoplata + head and arm choke. Similar to Clark Gracie's (clarkoplata) which he uses in the Gi. We can call it the hammoplata for now !

— Lee Hammond (@LeeHammond96) November 12, 2018
Here it is then @LeeHammond96 #Hammoplata finish from today's #MMAWorlds2018 #Bahrain pic.twitter.com/20EI2Rq8sw

— IMMAF (@IMMAFed) November 12, 2018
The manner of the win is an interesting one: the gogoplata is one of the rarest submissions in Brazilian Jiu Jitsu, requiring extreme dexterity to achieve it. Per reports, the submission was a 'hybrid' of a gogoplata and a rear-naked choke, though Hammond later clarified online that it was an omoplata, along with a head and arm choke — or as we know it now, the Hammoplata!
The SBG main will now move on the next round of the competition.
Comments
comments