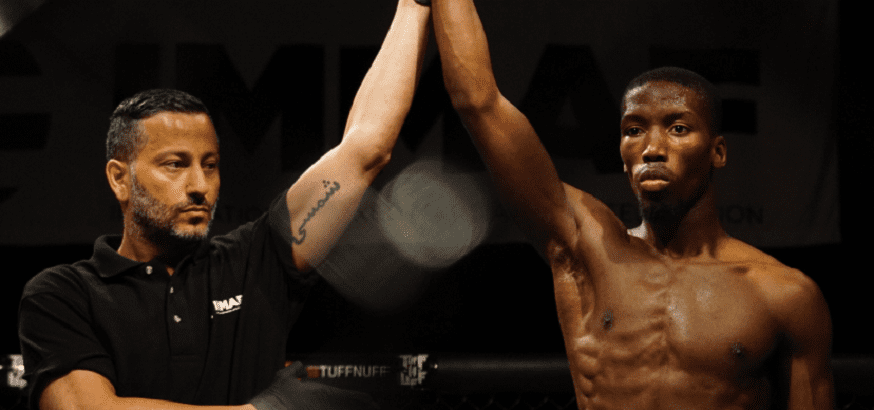 SBG's Frans Mlambo is taking another neck back with him to Ireland after defeating Jordanian fighter Jalal Deaja via third round standing guillotine choke on Friday at BRAVE 4 in Abu Dhabi.
Mlambo, the former IMMAF world amateur MMA champion, finished the fight in the third frame after securing a vice-like grip on his opponent's neck when Deaja pushed forward for a takedown late in the fight, forcing a tap with both fighters still on their feet.
Deaja saw some success early in the fight, finding success with his oppressive grappling and top control game before Mlambo asserted his authority in the second half of the first round, working himself towards top position. Mlambo's striking was much cleaner throughout and he floored Deaja in the final seconds of the first round after catching his opponent out of position after a wild spinning backfirst attempt. Deaja rallied to his feet and was immediately sat back down with a right hand to the chin.
The second round was another close affair, with Mlambo finding success when keeping range and inviting his opponent forward. Clearly the better striker, Mlambo only found himself in any kind of trouble when he over-committed on the feet or allowed Deaja the opportunity to catch a kick.
In the end, Mlambo's emphatic finish was a clinical one and serves to underline his status as one of European MMA's top up and comers.
You can watch the contest in full below. Mlambo's fight is second on the bill, with SBG fighter Ben Forsyth appearing in the opening bout.
.
Comments
comments