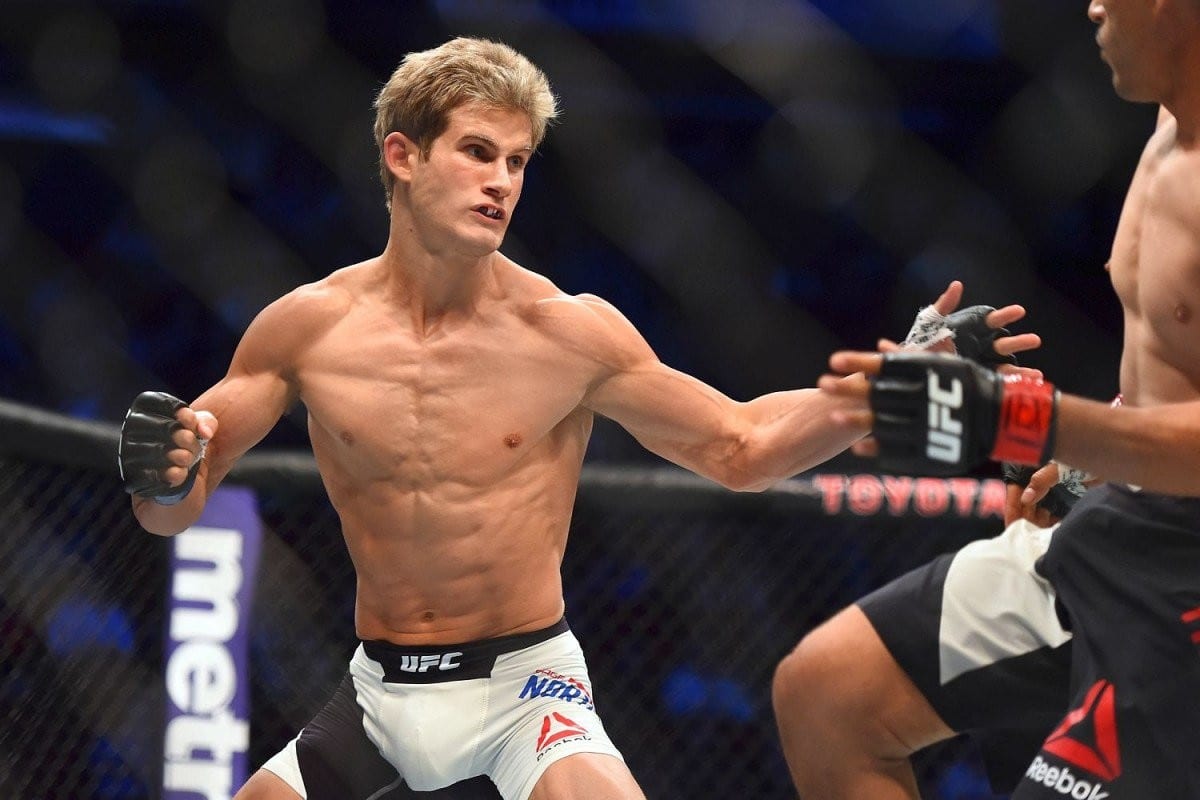 Despite the fact that the only two professional defeats of Sage Northcutt's career coming in the welterweight division, Sage Northcutt says that the difficulty of his weight cut to the lightweight division looks like it might mandate a return to 170-pounds.
Northcutt, last seen in the octagon earning a decision victory against Thibault Gouti last month, is 4-0 in the lightweight frame against a 0-2 ledger at welterweight in his UFC run thus far but his desire to move up a division isn't to face a different degree of competition but rather because of the difficulties he experiences at making the lightweight limit of 156-pounds.
"Believe it or not, I'm actually planning on moving up to 170 for my next fight. Because fighting at 155, I believe the weight cut, the last three or four pounds is really tough," Northcutt explained to Submission Radio (via Bloody Elbow).
"I walk around under three percent body fat pretty much all the time, and the last three or four pounds is pretty tough for my weight cutting and I think it's affecting my performance a little bit. So I guess we're gonna see what happens.
"I have had some pretty tough weight cuts. Every single one to get down to 155 is definitely pretty tough to get there because the last little bit is definitely hard," Northcutt added. "My body might stop sweating, or maybe it's hard to lose the last few pounds. But I believe I'm getting older now. A few years in the UFC and my muscles are maturing more, I'm getting a little bit taller, stronger, more muscular. So we're gonna see exactly what the game plan is, but I believe I am going up to 170."
Discovered on the web series Dana White's Lookin' For a Fight, Northcutt exploded onto the MMA scene with a win within a minute of his UFC debut against Francisco Trevino in late 2015. He followed that up a win against Cody Pfister before being submitted by Bryan Barbarena in his welterweight debut. He went on to win three of his next four bouts, with the only loss coming to fellow prospect Mickey Gall once again at 170-pounds.
"Well, I had two fights in the UFC at 170. My first fight I went to 170 on like three or four days' notice, so less than a weeks' notice because I was scheduled to fight at 155," Northcutt, who has recently been training with Team Alpha Male, continued. "I was already cutting down to low 160's to be able to get ready to finish that last part of my weight cut, and then my opponent got injured. Andrew Holbrook broke his foot, so they moved it to 170 last-minute.
"I think it will be different, because my last fight at 170 against Mickey Gall, I didn't have a training camp. I was in school, studying to be a petroleum engineer. My focus wasn't focused full-time on fighting, I didn't have the ability to have training partners and sparring and people correcting me and the best coaches in the world. So I think it's gonna be a different experience now."
Comments
comments