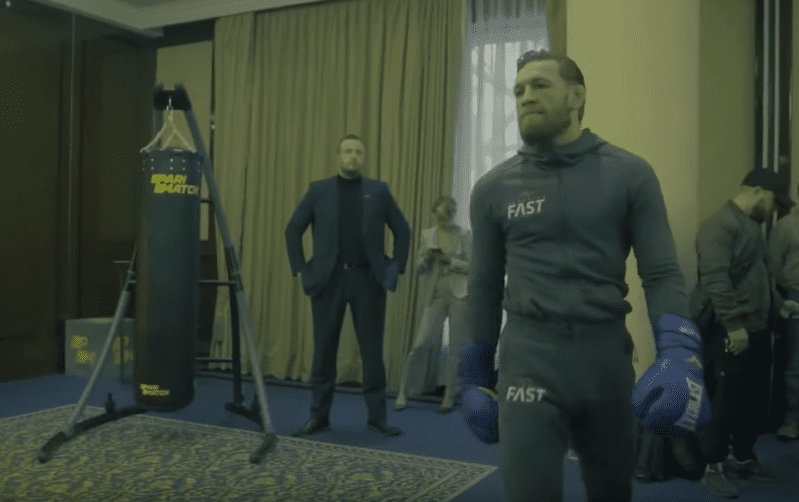 Conor McGregor's trip out east to Kiev and Moscow has certainly garnered significant column inches in the past week.
It was revealed during the trip by McGregor himself that he will make his return to the UFC's octagon on January 18th next against an opponent yet to be revealed. While speculation intensifies as to who that may be, McGregor also outlined that he plans to take on the winner of this weekend's 'BMF' title bout between Nate Diaz and Jorge Masvidal in Madison Square Garden.
And after that? McGregor says that his 'season' will see him take on rival fighter Khabib Nurmagomedov in a sequel to their October 2018 first fight in what is one of the most heated rivalries in UFC history.
McGregor's trip to Moscow was notable for several instances of verbal barbs thrown in Nurmagomedov's direction during a press engagement on Thursday of last week in which he questioned Khabib's true popularity in his homeland. "He's afraid of the Moscow bout for whatever reason," McGregor declared. "I'm not sure, does he represent Russia? I don't think he represents Russia."
Well, this theme continued into an open workout conducted by McGregor as part of his partnership with Parimatch last week in which he doubled down on these themes.
During a break in a striking exhibition alongside Cian Cowley, McGregor asked the audience: "Does Russia have a national anthem, yes? And does Dagestan have a national anthem? Separate? Play the Russian national anthem please.
"I've never heard it. Think of the representation of the people. To the Russian people. The Russian people deserve this match. And they're going to get it."
Comments
comments