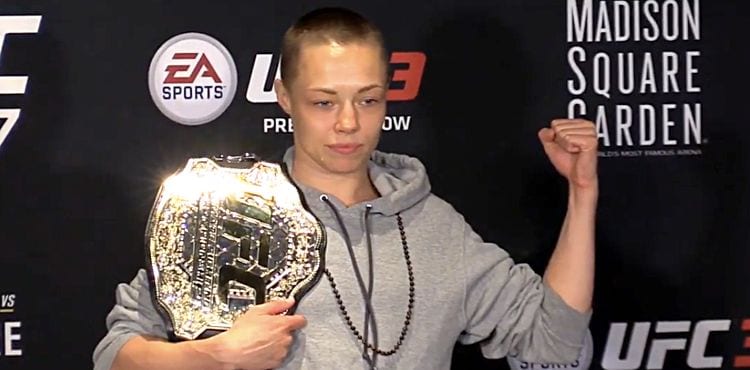 When Rose Namajunas dropped Joanna Jedrzejczyk to the canvas at UFC 217 in New York, she also sent the world of mixed martial arts into raptures.
The biggest upset of last year, Namajunas' victory over the previously undefeated Jedrzejczyk stunned fans and pundits alike after just one round of action. Namajunas came into the fight as the heavy underdog, only to almost nonchalantly deal with the then-champion and dispatch her.
Since then, Jedrzejczyk has pointed to serious issues in her preparation, particularly in the amount of weight she was forced to cut before fight night, as a reason for her subpar performance. With the two set to rematch at UFC 223, it'll be up to both women to prove something. Jedrzejczyk aims to show that when all things are considered, she is the better fighter, while Namajunas wants to prove it wasn't just a fluke.
And Namajunas certainly sounds ready to do so.
"You can't paint the Mona Lisa twice," Namajunas said, speaking on the JRE MMA Show. "It has to be something different, but if it ain't broke, don't fix it, either. We've just got to keep doing what we're doing but keep getting better obviously all the time.
"Everyone tries to take her down from what I see. I stand across from Valentina Shevchenko, and we go back-and-forth, and it's not a thing to me. I've got Pat 'HD' Barry in my corner. I've got Trevor Wittman. I've done taekwondo striking my entire life. It's not something I've never seen before.
"[Joanna's] Dutch style of kickboxing, that's great, that's hard. It's very intimidating to stand across from, but you know it's very rhythmic on the beat. It's just something: It looks scary, but it's nothing to be scared of."
–
Comments
comments