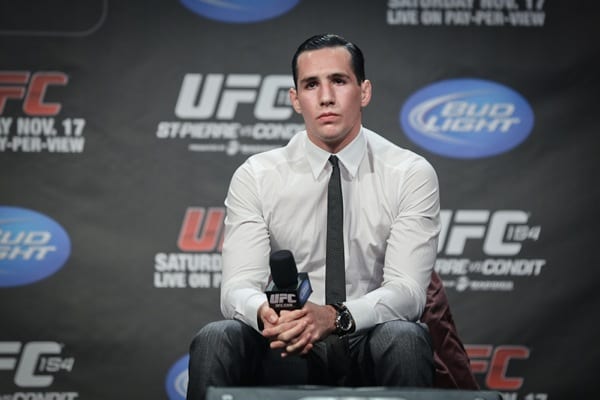 Rory MacDonald is well known for his fighting spirit, but even that seems to pale in the 170-pounder's new found desire to fight heavyweights.
Seemingly no sooner than Bellator MMA announced they'd be playing host to a heavyweight tournament featuring eight of their roster's biggest names, MacDonald revealed he'd be interested in stepping in amongst the bigger men as an alternate should any of the fighter's involved became injured.
And while it might seem easy to disregard MacDonald's interest in taking part as a pipe dream, the Bellator star appears to have spoken with his boss, and feels satisfied that they're taking him seriously as an option.
"I spoke to Scott Coker about it and he said that maybe they would use me as an alternate if someone gets injured, and also depending on how my fight goes with Lima, obviously," MacDonald said today, speaking on MMAFighting's The MMA Hour. "I like my chances if someone gets injured or pulls out for whatever reason."
For MacDonald, it's all an opportunity to be involved in a tournament — something he's never been able to do — and to prove that there are aspects to mixed martial arts which can overcome size and power.
"I've always wanted to do a tournament, and I think it would be interesting doing it, kind of like old school," MacDonald said. "I know I'd be undersized going in against these guys in a tournament, so it would kind of have an old school UFC vibe. That's always something that would be interesting.
"I think it would be interesting. Fight fans would find it interesting to see the new school MMA with a touch of the old school [like] the whole no weight limit thing, even though I would have to make the weight."
—
Comments
comments