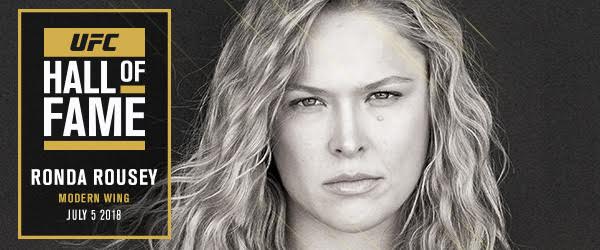 Ronda Rousey may no longer be an active participant in mixed martial arts, but her legacy will be remembered forever.
At UFC 225, it was announced the former UFC women's bantamweight champion and female MMA pioneer is to be inducted into the UFC Hall of Fame on International Fight Week next month.
Rousey is without a doubt the largest factor in the current success of women's mixed martial arts. UFC president Dana White — who was quoted numerous times as saying women would "never" fight inside the UFC — has repeatedly pointed to her as the reason female athletes can compete on the highest stage of MMA today.
Rousey made her UFC debut against Liz Carmouche in February 2013, in the first ever women's fight inside the UFC. From there she demolished every contender in spectacular fashion, earning her huge plaudits as well as superstardom.
While she may have eventually left mixed martial arts under dark clouds — refusing to talk to the media after feeling betrayed following her loss to Holly Holm — her impact is undeniable, and as such her inclusion in the Hall of Fame is well deserved.
"This is an immense honor, to not only take part in bringing women to the forefront of this sport, but now the UFC Hall of Fame," Rousey said in a press release. "May I be the first of many."
Rousey will be officially inducted into the UFC Hall of Fame's "Modern Wing" in a ceremony on July 5.
Comments
comments