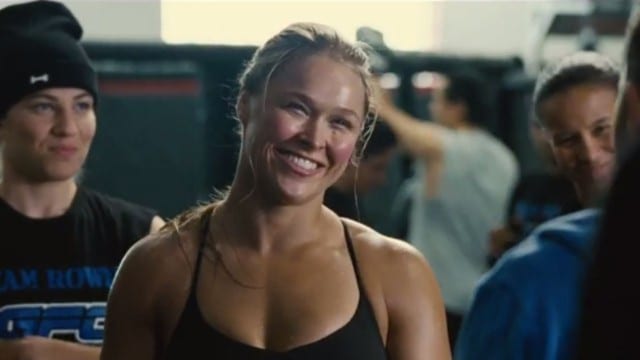 When Ronda Rousey suffered her first professional MMA loss to Holly Holm, the praise she'd previously been accustomed to disappeared under a crashing wave of criticism. 
Whether it was her suddenly exposed striking ability, her apparent arrogance heading into the contest, or her questionable behaviour at the fight's weigh-ins, there were plenty of fans and pundits who had negative feedback to offer.
Because of that experience, Rousey's return at UFC 207 against Amanda Nunes came with a media blackout, with the former UFC bantamweight champion refusing to speak with mixed martial arts outlets about her comeback. At the time, UFC president Dana White went on record to say Rousey had felt the media betrayed her.
"She just felt like the media completely turned on her when she lost," he said. "She felt attacked. She felt like these people in the media, that she gave three years of her life, cruising around, giving interviews to, completely turned on her when she lost."
Now, Rousey finds herself in a new, high profile endeavour, joining the professional wrestling company WWE. And along with that opportunity has come an increased amount of media interaction by Rousey — case in point, last night at a Q&A session in Los Angeles to promote her new movie Mile 22.
Speaking to media members, Rousey was asked about her two back-to-back losses she suffered before leaving the UFC, and instead of the curt, dismissive answers, the former champion began to share her experience after life in fighting.
"I did a whole lot of crying, isolating myself, (husband Travis Browne) held me and let me cry and it lasted two years," Rousey said (transcribed by USAToday). "I couldn't have done it alone. There's a lot of things you have to remember. Every missed opportunity is a blessing in disguise. I had to learn from experience. From the worst things, the best things have come as a result. Time is a great teacher. It's that belief that time passes, even bad times."
One of Rousey's biggest criticisms since her loss to Holm was her inability to accept defeat. While names like Dominick Cruz and Conor McGregor received plaudits for the manner they faced a loss, Rousey was panned for her shying away from public life. That's because, she says, she was never meant to accept losing.
"My parents expected me to be special, so I expected to be special," Rousey said. "I was just trying to create the job I wanted, and I wouldn't have the audacity to do that if my mom didn't tell me I could. But one thing my mother never taught me was how to lose. She never wanted me to entertain it as a possibility. She'd say: 'Let it suck. It deserves to suck.'"
Still, despite this newly found manner of publicly talking about her losses, don't expect Rousey to embrace the media who she feels 'turned on her'.
"We live in an age of trial by Twitter," Rousey said. "What is really gained by stating opinion on anything? It whittles people down. It gets cut and pasted 10 times and it's in (a) headline.
"[Celebrities] keep more and more of it to themselves. Why should I talk? I believe hearing me speak is a privilege, and it's a privilege that's been abused, so why not revoke it from everyone? I don't believe public criticism beating you down is the right thing to do."
Comments
comments