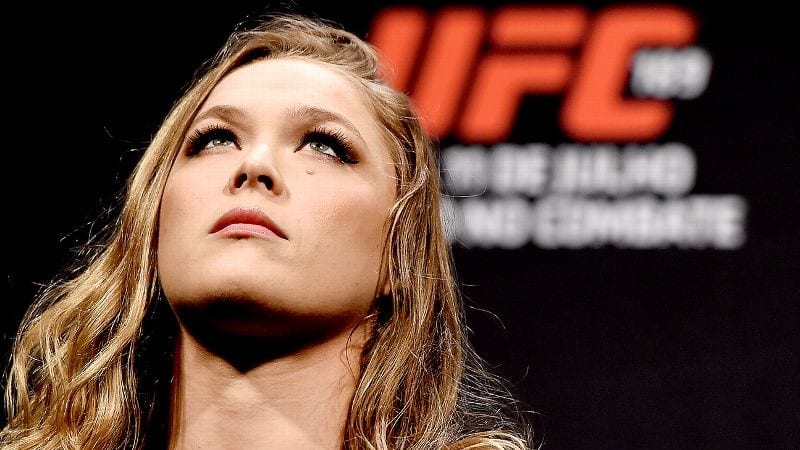 Ronda Rousey was the first woman signed to the UFC, the first woman to headline a UFC card, the first woman to hold a title, and now she is the first woman to enter the UFC Hall of Fame.
The former UFC women's bantamweight champion appeared for the first time in front of a mixed martial arts crowd in nearly two years on Thursday night at the UFC Hall of Fame ceremony, accepting her induction as a member of the class of 2018. Speaking on stage for about five minutes, Rousey addressed the fans, thanking them and crediting a significant amount of her success to them.
"You know I'm not a person who usually struggles to find words. From the bottom of my heart my soul, my toes, my entire being, I want to thank you," Rousey said. "For the first decade of my athletic career, I was at the pinnacle of athletic accomplishment and no one seemed to care. Nothing changed, and then you came along. The only reason why anything that I ever did had any effect on the world is because you took the time to let it affect you.
"Words will never express how humbled I am that you gave me the honor of being the person that made all this possible," she continued. "I'm not the first person who had the ability to do this, but I am here because I'm the first person you took the time to watch."
Now, as she goes into retirement, Rousey leaves behind her a host of women to compete in a promotion that prior to her involvement had no interest in promoting female fights. Her legacy, while perhaps mixed with her attitude to the media upon leaving the sport, will be found in the women who can earn a living fighting in the world's premier MMA organisation.
"Because of you, I am the first woman standing up here accepting this incredible honor," Rousey said. "May I be the first of many. I look around and think, together we built this, this division, this sport, this revolution. Together we have redefined what it means to be strong, to be sexy. We have changed what it means to 'fight like a girl'."
Comments
comments