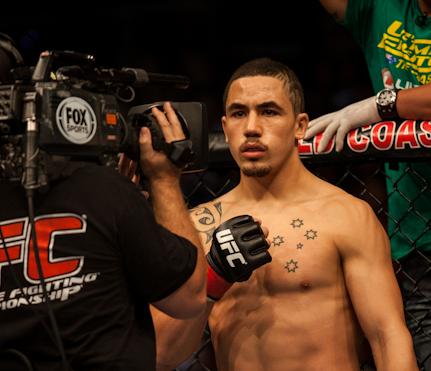 UFC middleweight champion Robert Whittaker isn't resting on his laurels ahead of his upcoming rematch with Yoel Romero at UFC 225 on Saturday.
Whittaker holds a unanimous decision win over the Cuban Olympian from their first meeting last July. While the champ hasn't fought since then owing to a litany of medical woes, Romero rebounded with an impressive third round finish of Luke Rockhold in February, stoking the coals for another shot at the organisation's 185-pound championship.
Whittaker, though, is under no impression at the size of the task which awaits him.
"Some people ask me: Does it give you any confidence knowing that you've already beaten him once? I've got to say 'not really' because he hits like a truck and it only takes one to get you," Whittaker said to ESPN.
"He's a human specimen, to begin with, and he's one of the most athletic, explosive and talented humans on the planet. So every time I step in there with him it's 50/50."
Of course, the primary method available to a fighter ahead of facing a dangerous opponent is training. And lots of it.
"I'm constantly pushing my mental capacity well over its cap," Whittaker continued. "I'm thinking about his takedowns; I'm thinking about not getting hit with his sledgehammer hands. I'm tired, I need to initiate the attack; I have to push him, he has to push me. That, for 25 minutes, it takes a toll.
"It's more mentally taxing than physically taxing."
This weekend's task is the subject of Whittaker's entire focus at the moment. After that, though? Well, let's just say that he has some lofty ambitions.
"I want to be the best fighter ever, there ever was, there ever has been; there ever could be," Whittaker said. "And the only way I can do that is by fighting everyone and just stopping everyone."
Comments
comments