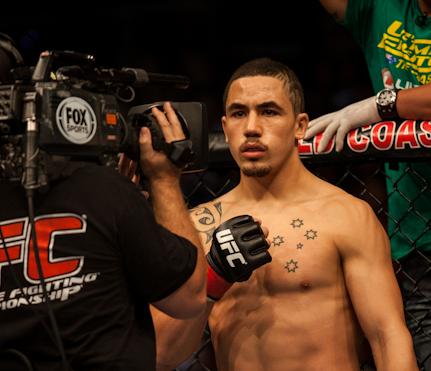 Robert Whittaker might have beaten Yoel Romero already in his career, but he's not exactly considering their upcoming rematch as a foregone conclusion.
Whittaker met the Cuban in a five round clash last July, emerging as victor by unanimous decision after Romero appeared to tire towards the second part of the fight. Now, the pair are set to meet in the main event of UFC 225 in Chicago on June 9. While it's something he's ready for, it's not a meeting Whittaker is exactly savouring.
"Romero is a hard fight. It was a war the first time," Whittaker said, speaking with AAP. "It's definitely up there as one of my hardest fights to date, one of the hardest fights mentally due to getting injured in the first round and having to get through it all. He's such a tough competitor, he's such a good athlete and such a good fighter.
"I'm under no illusion. I think this fight is going to be an an absolute nightmare so I'm going to make sure I'm training my absolute hardest and be the best Robert Whittaker to date."
It'll be the first time Whittaker has been in the cage since getting promoted from interim champion to official middleweight champion. It's also his first fight since the previous Romero contest. He'd been meant to face Luke Rockhold in Australia, but was ruled out of action after falling serious ill.
That being said, he's not filled with regrets.
"Everything happens for a reason, I believe. The week of the fight my little daughter was born," Whittaker said. "I was home for that but if I was fighting I would have had to have been there and would have missed that."
Comments
comments