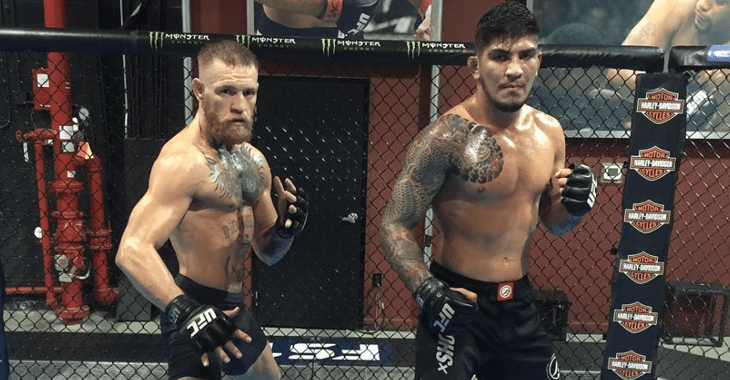 When Dillon Danis headed to Dublin to train at SBG Ireland ahead of his Bellator debut next month, a large factor of that was the ability to train alongside his friends in Conor McGregor and coach John Kavanagh.
Danis has been brought into McGregor's last two MMA training camps to help the UFC champion prepare, and in doing so forged a relationship with the gym that has served all parties well. So, when it came time for Danis to prepare for his first ever professional fight, it made perfect sense to travel to work.
Certainly it seems training alongside McGregor gives Danis a boost every time he steps into the gym.
"He's there, he's always helping," Danis said of the UFC champion on MMAFighting's The MMA Hour. "He's a mentor to me. I look up to Conor a lot. In my opinion he's the best fighter of all time right now, and it's really cool to talk to him about training, mindset, everything. I look at him as a mentor, and I'm really happy to be really close friends with him and training partners. It's a good relationship."
Over the past couple of years, McGregor has taken an interest in Danis' growing career, even at one point labelling the young man from New York a protege. With that connection, Danis is able to use McGregor as a resource — something invaluable to a growing fighter, and something that doesn't just stick to technique, but also the mental aspect of fighting.
"Ever since I met him, we have talked about that kind of stuff," Danis said. "I feel like we've covered it before, and I'm pretty sure I'll talk to him about it — I'm still here for four or five weeks. Just being around him, he's a very motivating person. He always instills in me that you're going to do this, and this is your shot. He's really good at motivating, he's a really good friend. He's really good to talk to about all things."
Danis makes his debut on April 28 against fellow Bellator newcomer Kyle Walker. For having a professional record of 0-0, Danis will be watched far more than your average newcomer. The combination of his jiu-jitsu prowess, and his high profile link to McGregor means his MMA career has been anticipated for some kind — not that it's weighing on him.
"I like everything," Danis said. "I just love improving and getting better, and I feel like a white belt again sometimes. It's fun to learn, it's fun to just put your mind to something. Even in jiu-jitsu when you get to black belt you're always learning. It's just cool to start over and kind of work on new things, I really enjoy MMA training, but at the end of the day, it's all the same. In jiu-jitsu and MMA, it's just hard work that pays off. Nothing else. That's why it's easy for me,  because I know how to work hard, and I know how to work really hard.
"MMA's pretty simple. It's the same recipe; work your ass off and you'll get results."
Comments
comments