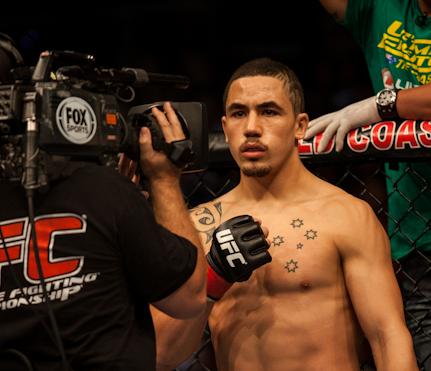 UFC middleweight champion Robert Whittaker might be set to coach against Kelvin Gastelum on the latest series of The Ultimate Fighter, but it seems it'll be a little while longer before the pair step into the Octagon themselves.
After his epic five round war with Yoel Romero last month, Whittaker has picked up a few injuries that will keep him out of action for the foreseeable future. Not only did he suffer a broken hand in the contest with the Cuban, but he'll also require surgery for the injury to heal.
Because of that recovery period, Whittaker doesn't see himself getting into the cage by the end of this year.
"It's still only several weeks from surgery so I'm still working on it," Whittaker said, speaking with ESPN.com. "I can't even start a rehab process yet, it's more of just letting it heal and letting it set properly first before I can even implement that.
"They put a plate and some screws [into it]. People don't know this but also I did ligament damage in my left hand but obviously the attention was drawn to the broken one …
"I definitely won't be ready before next year. My hand rehab — both hands — I have to get to 100 percent with my hands before I can start rehab. The healing process has to be done before I can even start a rehab program and then I need strengthen my hand up to 100 percent. Then, when I'm a 100 percent, I'd like to get a little bit of training done.
"Realistically, I'm looking at like February of next year."
Comments
comments