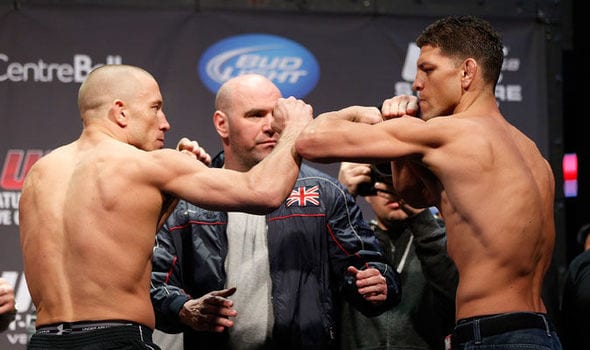 Following his win against Anthony Pettis at last weekend's UFC 241 in Anaheim, Nate Diaz was asked about the current status of his brother Nick.
The elder Diaz hasn't been seen in the octagon since a January 2015 clash with Anderson Silva but Nate was quick to forecast that he could potentially be convinced to return to action if there was an attractive offer on the table — and he suggested the name of one of Nick Diaz's former opponents, Georges St-Pierre.
GSP, who announced his retirement earlier this year, hasn't competed since a November 2017 win against Michael Bisping in Madison Square Garden in which he won the UFC middleweight title to add to the welterweight title he held years prior. He also scored a unanimous decision victory against Diaz at UFC 158 in 2013 — and as he told Chael Sonnen, he doesn't have an appetite for a do-over.
"I think this guy's gonna hate me until the day I die. It's unbelievable," said St-Pierre (transcript via BJPenn.com)
"I know he doesn't like me, and he looks to get me all the time. But, I genuinely like the guy. I'm telling you the truth. I don't know what to say… he's one of my biggest adversaries. Even if we only fought once, we are very different personalities. I think that's why the clash of the personalities makes it very interesting. But I'm retired now, I don't want to go back and fight.
"I don't want to fight his brother, Nick Diaz, it's not interesting for me. There's nothing I can gain from that. The risk is not worth the reward… There's nothing good that can come out of it, even if I win. I think the odds will favour me and expect me to win, and if I lose it will be a complete disaster. I don't want to put myself into another training camp and make all the sacrifices of a three-month training camp for that type of fight. It's not worth it for me."
It remains unclear as to whether Nick Diaz will compete again but we have learned time and time again to never doubt a Diaz when it comes to flipping the script, but it he does return to the cage it is unlikely that it will be against Canadian legend GSP.
As for Nate, all signs are pointing to a blockbuster bout with Jorge Masvidal in the near future and that will be more than enough to satiate fans wanting to see the unique style of a Diaz brother in action.
Comments
comments