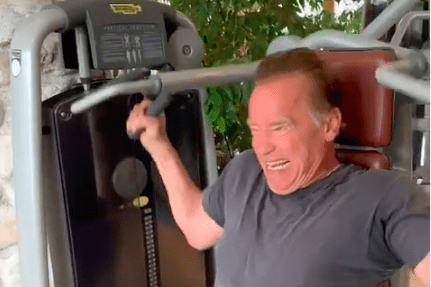 It takes something big to keep Arnold Schwarzenegger from the workout room.
You may recall seeing footage of the Austrian Oak receiving a jumping kick to the back from a deranged 'fan' several months ago but Schwarzenegger but the 72-year-old actor and politician didn't let that incident distract him from his weights routine and recently published footage of him doing reps on a pull-down machine just days after the incident.
Check it out below:
View this post on Instagram

#TBT to checking on my back 3 days after that guy kicked me.
The clip shows Schwarzenegger crushing 12 reps on the machine at its maximum weight, showing that there was no damage after the incident which took place in Johannesburg last May. In the clip, Arnie can be heard asking, 'You want me to keep going?' after performing his 10th rep.
This comes after the sneak attack on the star at the Arnold Sports festival in South Africa in which he was attacked from behind by a crazed fan who appeared to shout, 'I need a Lamborghini' before his jumping assault. Schwarzenegger  assured those in attendance that he was fine and that he didn't even realise he had been kicked (apparently thinking instead it was simply a push).
Thanks for your concerns, but there is nothing to worry about. I thought I was just jostled by the crowd, which happens a lot. I only realized I was kicked when I saw the video like all of you. I'm just glad the idiot didn't interrupt my Snapchat.

— Arnold (@Schwarzenegger) May 18, 2019
The video does imply that Schwarzenegger was unharmed in the incident. The ease in which he performs the reps would be impressive for anyone, let alone a man in his seventies, and goes to show the lifetime benefits that a concerted health & fitness plan can have on someone even as they enter their vintage years.
(H/T Men's Health)
Comments
comments