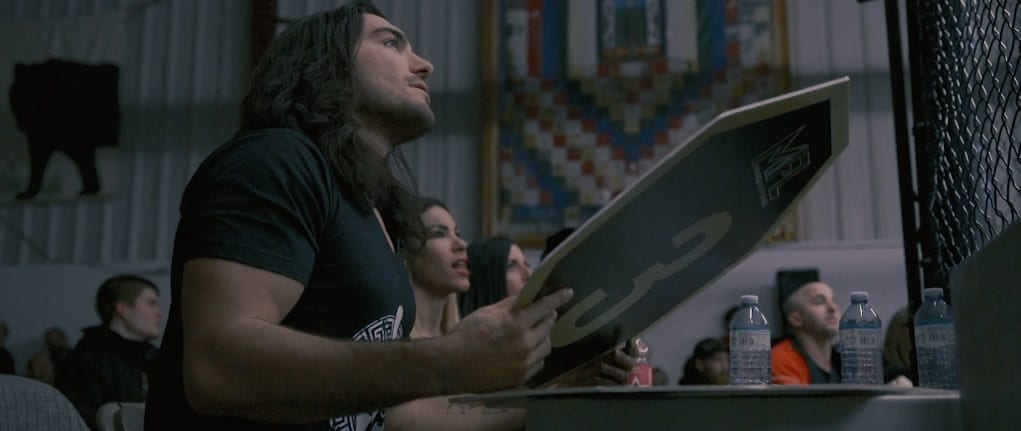 This weekend UFC middleweight Elias Theodorou will become the first ever 'ring card boy' to appear at a major mixed martial arts promotion when he treads the canvas at Invicta FC 28, wearing not a whole lot more than a pair of fight shorts and a smile. 
Theodorou's appearance at the all-female fight promotion bucks a historic trend in the fight game which has, for years, relied upon the female form as a distraction between rounds, or as eye candy backdrop for weigh-ins. However, some sections of the sport-viewing public are beginning to rail against this practice.
The Professional Darts Corporation in the United Kingdom has announced that they have nixed future 'walk on girls' from appearing at their events. Formula One, perhaps one of the most watched sporting events in the world, has also stated that they have consigned their traditional 'grid girls' to history, a vestige of yesteryear when times were simpler. Men drove the cars, women wore bikinis and that's how it worked.
However, when it comes to mixed martial arts — and in direct contrast to darts and motor racing — it has, for the last five years at least, been as equal a sport as there is. Female athletes are promoted to the same extent as their male counterparts, and often times to a far greater extent. For a spell a female athlete, Ronda Rousey, was unequivocally the sport's biggest star and, while they're yet to reach those same stratospheric heights, the likes of Rose Namajunas, Joanna Jedrzejczyk and Cris 'Cyborg' Justino are walking that same path.
But do those ring card girls, all smiles in the background, take away from the achievements of the female athletes? Theodorou doesn't believe so.
"More or less, the conversation that I'm trying to have is that in the true pursuit of equality the answer is more not less," he said to John Balfe of The Mac Life. "[Some would say] that sexualizing an individual is distracting but I would argue that there are a lot of people who sexualize fighters. I think this puritan component of sexuality, although coming from a good place, does more harm than good.
"What if someone wants to promote their sexuality, or their beauty? I don't think it makes a lot of sense to be more offended than the person who has the job as the card-holder."
It has been argued that, when it comes to the concept of a ring card boy, parity doesn't necessarily mean equality but Theodorou states that his intention this weekend is by no means parody. He is as serious about this as he would be for a professional prizefight.
"I'm not necessarily trying to win anyone over, I'm just trying to start the conversation", he says. "It's really up to the promotions to try ring boys as an addition, or remove ring card holders altogether. I think it will settle itself out.
"I'm trying to add, not subtract or distract, when I make my Invicta debut. I'm not going to make a mockery of it, I'm going to wear the clothes that I feel comfortable in, which will be athletic shorts and I'm going to wearing a top that's open in a classy and professional way. I'll be doing the same thing that my female counterparts are doing.
"I'm going to treat it with respect. I'm going to treat my female counterparts with respect. I'm not looking to make this a one off, I plan on doing this regularly with Invicta. It's not me having a one-and-done just for shits n' giggles, I plan on doing this for the long haul and I'm really excited to be a part of the Invicta team. It's not going to be The Elias Show, it's all about the powerful women that will be on the card fighting."
This weekend won't be Theodorou's first time as a ring card boy, having given the concept a dry run last month at a Montreal Fight League event in Quebec and, having come through that experience, he remains keen to emphasize the difficulty of the practice. There's a lot more to it, he says, than just walking counter-clockwise around a cage every five minutes.
"I was more nervous making my ring boy debut than I was for my last fight. A part of that was the psychological component. I was worried about what other people thought. I'm in a place right now where I want to get out of my comfort zone. Sure, maybe some people in the audience didn't necessarily get in on the joke, or get in on the conversation — whatever the component may be. It still allowed everyone the opportunity to join in on the conversation, the fun, whatever you want to call it. To each their own, right?
"Obviously I've been in a cage many times but this one felt more stressful. It's something that is not really done that often. It being a Quebecois crowd, I didn't know if the whole thing would be lost in translation. No, it was a very positive experience and they were having fun as well."
Another element to this is that Theodorou, as far as he knows, has found an inventive way of getting around the UFC's sponsorship deal with Reebok. While the criticisms of that deal from many fighters is another story for another day, Theodorou will become, as far as he is aware, the only active member of the UFC roster who will appear on UFC programming (the event is broadcast on UFC Fight Pass) with his own native sponsorship displayed on his shorts.
"I'm using the platform to get at the UFC demographic, the UFC viewership in a non-traditional way. If there's a roadblock, find an opportunity to work around it and I definitely did. I'm the only UFC fighter with a billboard back."
Ultimately though, Theodorou is happy to be the one breaking new ground and buck some stereotypes in the process. In his initial conversation with Shannon Knapp, president of Invicta FC, he was keen to impart that he is not in this for self-glorification, or as a novel subject for his new web-series, but rather to walk a road that has yet to be traveled.
"It was a no-brainer to bring the idea to Shannon. Most importantly, what she wanted to express was that I wouldn't make a mockery of it but rather add, not subtract or distract. Invicta has been at the forefront of promoting women as athletes and the opportunity is there to be an innovator rather than an imitator."
Invicta FC 28: Inoue vs. Jandiroba takes place this Saturday 24th April from the Union Event Centre in Salt Lake City, Utah. The event will be broadcast on UFC Fight Pass. 
Elias Theodorou will face Trevor Smith at UFC Liverpool on May 27th. 
Comments
comments