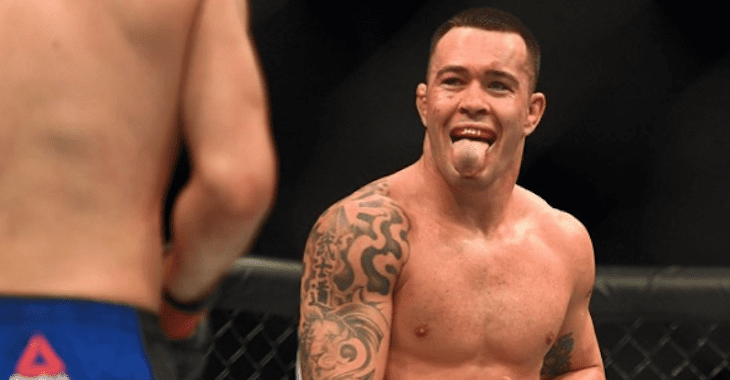 The Ali Sami Yen Stadium in Istanbul, Turkey, the home of the Galatasaray soccer team, proudly proclaims itself as 'Hell' to visiting opponents and it is very likely that this is the type of atmosphere which awaits Colby Covington when he faces Rafael Dos Anjos for the interim welterweight title in Brazil at UFC 224 in Brazil, as per reports today.
BJPenn.com reports that the bout is close to being announced, with several other sources reporting that the bout has been verbally agreed by all parties.
Covington, one of the most controversial figures in mixed martial arts, has drawn considerable ire from the Brazilian mixed martial arts community due to a number of offensive statements about the country and its inhabitants. After a victory against Demian Maia in Sao Paulo in his last bout, Covington referred to the local audience as 'filthy animals', a statement which outraged the crowd.
Later, in Australia, a confrontation with Fabricio Werdum involving a boomerang led to Covington pressing charges against the Brazilian former heavyweight champion.
Covington has been vocal in asking for a bout with Dos Anjos for the interim welterweight title. Writing on Instagram recently, along with an image which highlighted criminal statistics in the country, he borrowed a phrase from US president Donald Trump.
"Google gets it. Why can't you nerds?" Covington posted to Instagram. "[Dos Anjos] got it, that's why he moved as far away as he could into a gated community in California. Look, you don't wanna defend that dump or be associated with it, cool. But [Tyron Woodley] isn't coming back. I'm staking claim to this mountain. Either untuck your ball bag and sign the dotted line or get the hell out of my way while I make this division great again."
Reigning welterweight champion Tyron Woodley is currently injured, paving the way for the creation of an interim title in the welterweight division — essentially a number one contender's belt. Previously, Woodley has called Covington "embarrassing" and stated that he would refuse to face him should the UFC attempt to make that match.
Dos Anjos, the former lightweight champion, is currently ranked #2 in the division and a win against Covington could propel him in the direction of becoming the latest fighter to have held titles in two separate weight classes in the UFC.
Breaking! According to multiple sources close to the situation, the UFC is targeting an interim welterweight title fight between Rafael dos Anjos and Colby Covington for #UFC224 on May 12 in Rio. Nothing is official yet, but it sounds like the deal could be finalized soon. #UFC

— Chris Taylor (@CTaylor_96) March 22, 2018
.
Comments
comments