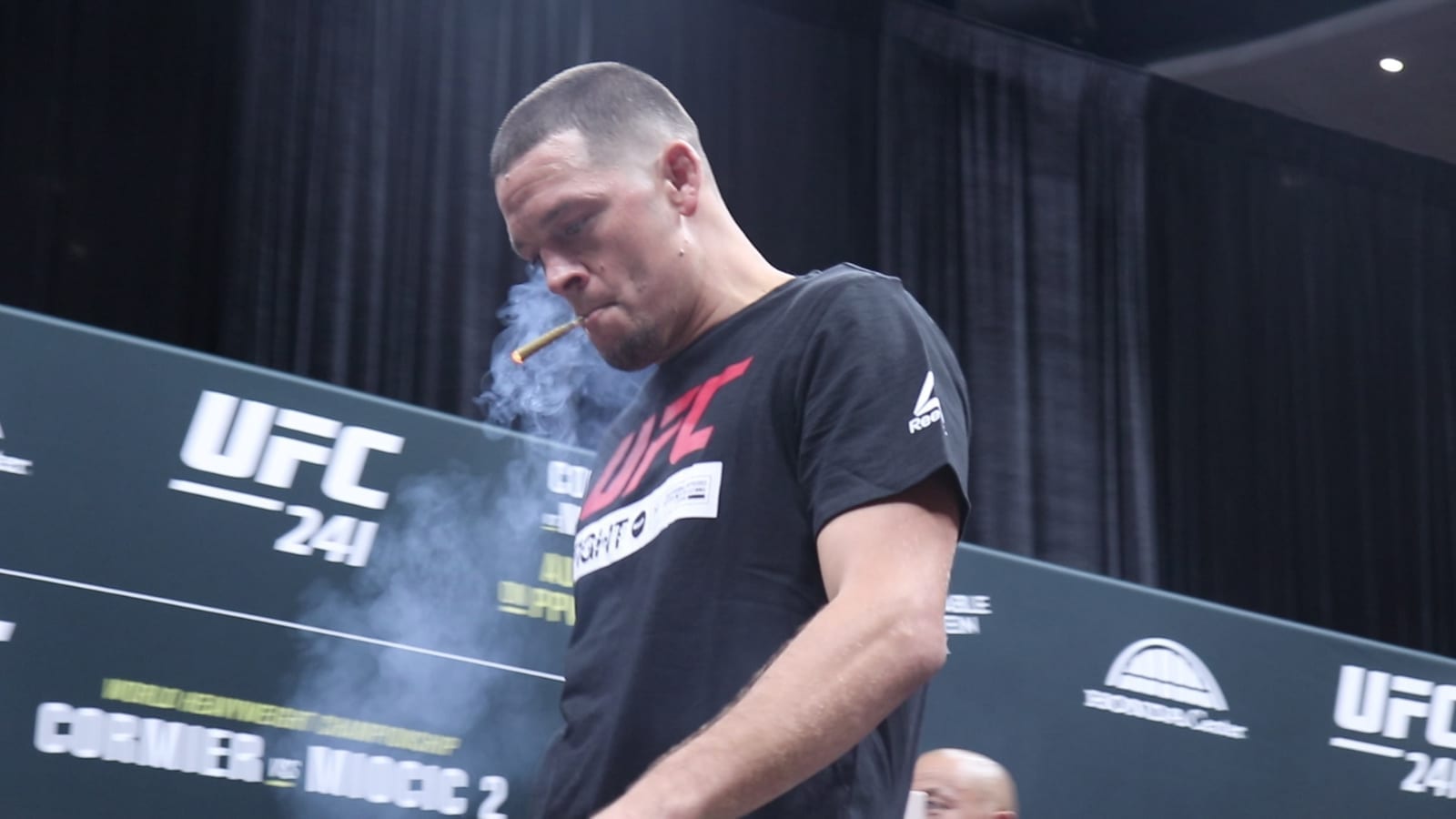 It wouldn't be a Nate Diaz fight without a little controversy somewhere in the lead-in. 
Last year's UFC 244 headliner between Diaz and Jorge Masvidal, one of the year's more anticipated fights, was nearly hamstrung before both men made their walk to the cage in New York City after Diaz announced in the build-up to the fight that he was withdrawing from the contest after being notified of an irregularity in a pre-fight drug test.
Diaz, who has long been a vocal opponent of the practice of taking performance enhancing drugs, immediately signalled his innocence to the point that he released a statement announcing that he would remove himself from the UFC 244 card until his name was cleared and an explanation was offered as to why it had been mentioned in these terms.
Your all on steroids not me pic.twitter.com/ykrZmRIoPS

— Nathan Diaz (@NateDiaz209) October 24, 2019
This is Game Up's "Plant Man" entry in the USADA High Risk List at https://t.co/HLQA9aXGUi

Two opened part-used bottles found to contain lgd-4033

Two sealed bottles purchased found to contain lgd-4033, ostarine (both sarms) and methasterone (an anabolic steroid) pic.twitter.com/NQLDtXi7lD

— Dave/Dim (@dimspace) January 7, 2020
However, a report from Bloody Elbow suggests that Diaz's own supplement company, Game Up Nutrition, may have been responsible for the adverse test findings last October. If you recall, Diaz was flagged for the ingestion of a "prohibited SARM (Selective Androgen Receptor Modulator), known as LGD-4033" but the minute traces of the substance found in his body meant that Diaz was neither suspended nor fined although, as mentioned, he did threaten to remove his availability to compete at UFC 244.
A UFC statement regarding the Diaz issue prior to UFC 244 stated that the test findings were from "two bottles of the same organic, vegan, plant-based daily mulivitamin", phrasing which closely matches literature which describes the supplement being sold by the company affiliated to Diaz.
As we know by now, the fight between Diaz and Masvidal went ahead as scheduled with Masvidal being declared the winner via doctor stoppage TKO at the end of the third round. However, as noted by Dimspace on Twitter, a new name has been added to the USADA list of prohibited substances — Plant Man Multivitamin, made by Game Up Nutrition.
Plant Man appears mentioned on Game Up Nutrition's social media pages but, as of now at least, isn't listed on their official website.
If indeed this is the case, Diaz appears fortunate that he didn't test positive for further substances which appear to be contained within the product, or as a result of contamination from a factory setting. One of the substances alleged to be contained within Plant Man is Ostarine, the substance which has led to suspensions for UFC fighters Sean O'Malley, Marvin Vettori and Jon Jones.
The 'contaminated substances' defence has been a popular one among fighters who have failed drug tests and while the lack of oversight and regulation centred around some of these supplement companies can absolutely explain away a significant percentage of test failures, it will inevitably lead to speculation about the motivations some fighters may have for associated themselves with certain brands.
Comments
comments