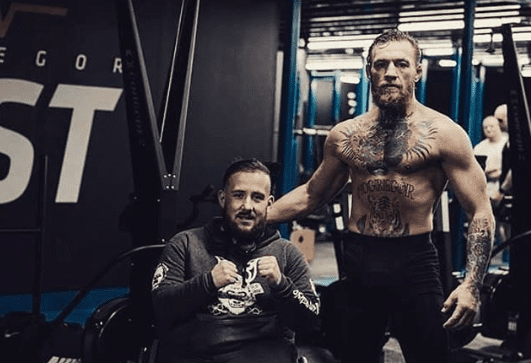 Dubliner Craig Rankin owes mixed martial arts a lot.
Rankin, who has spina bifida, had a chance encounter with Conor McGregor in a Dublin restaurant in 2015 and little did he know then when McGregor approached him to ask if he would like a photograph, just how much his life was about to change. Rankin, whose condition required him to be in wheelchair, was invited to begin training in the SBG Ireland HQ — and he credits this with changing the course of his life.
Subscribers to Rankin's social media channels will no doubt have seen clips of the 25-year-old on the rower in the gym's workout area, with one such video showing him being directly coached by McGregor, or working on the various weight machines in the facility. He also began his Brazilian Jiu Jitsu training shortly thereafter.
That isn't where it would stop, though. Craig had sourced a new cast to fit to his leg but with the finding for it now available under the terms of the HSE, he found himself at a loose end — that was until a message found its way into his inbox.
My pleasure Craig! We got your back at SBG ❤️

— Conor McGregor (@TheNotoriousMMA) January 7, 2020
As he explained on social media:
"Last May I had a meltdown as the funding wasn't available at that time to build the cast I wear. I shared it on social media. Everyone was great to me," Craig wrote.
"However the next day a member from Team McGregor, Julian Dalby, reached out and said Conor would like to help me. To explain briefly the cast I require to get the best from isn't available from the HSE (Health Service Executive) for various reasons, so to have someone say they'd be willing to take care of it for is you huge. I'll be forever grateful to you Conor McGregor.
"I just got fitted for my new cast. I'm looking forward to getting my new state-of-the-art carbon fibre caliber in six weeks time, just like to say a big thank you to Conor, Julian and the rest of the team who were very helpful in getting this all sorted for me."
Craig says that the new cast will allow him further mobility when it comes to walking and training. And the results will be evident in the gym.
The Mac Life has previously profiled Craig on our YouTube channel, you can see that video below.
–
Comments
comments