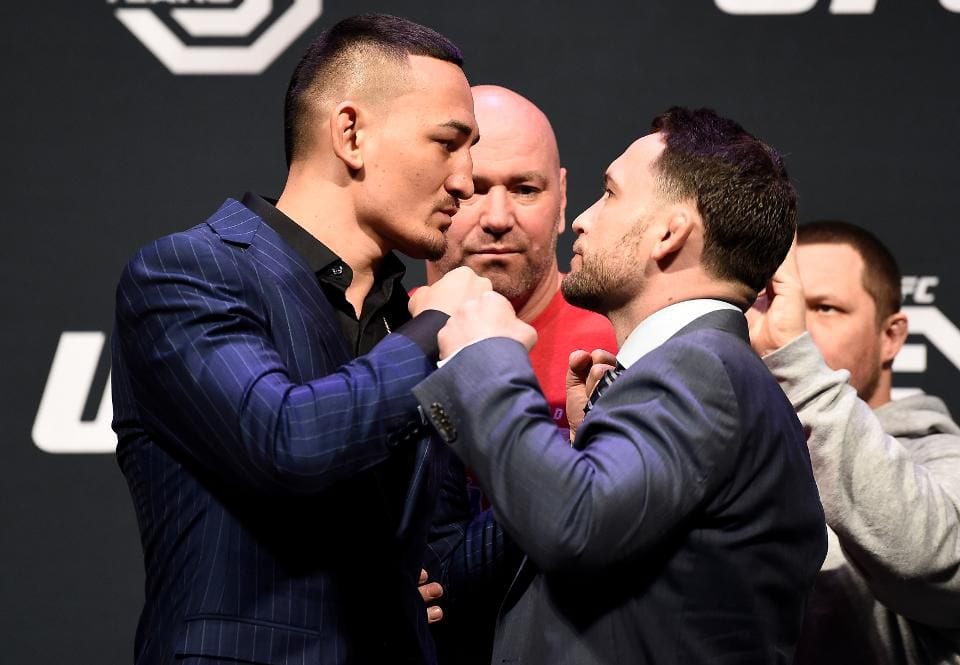 Max Holloway is going back to featherweight, and he's going to be doing so against a familiar name.
According to a report by ESPN's Brett Okamoto, Holloway has verbally agreed to defend his 145-pound title against Frankie Edgar — a man whom with he's been booked twice. It seems the pair will meet at UFC 240 on July 27 in Edmonton, Canada.
BREAKING: Max Holloway (@BlessedMMA) vs. Frankie Edgar (@FrankieEdgar) is verbally agreed for UFC 240 on July 27 in Edmonton. Story coming to ESPN. pic.twitter.com/w87RLF4Xpa

— Brett Okamoto (@bokamotoESPN) May 14, 2019
It'll mark Holloway's first fight back at featherweight since moving to 155-pounds to fight Dustin Poirier at UFC 236 in Atlanta. While there had been some questions about Holloway's divisional future before that fight, in the immediate aftermath UFC president Dana White said he wanted to see the champion return to the lower weight-class.
The choice of opponent, however, could raise some eyebrows.
While Edgar and Holloway have been scheduled to fight multiple times in the past — with those contests being scuppered due to injuries — Alexander Volkanovski's win over Jose Aldo on Saturday had seemed to put him in the driver's seat for the next shot at Holloway's gold.
Last week, Edgar made his public pitch for the fight with the champion, citing their previous cancellations as a reason to finally get the thing done.
"Hey @blessedmma not once but twice we got all dressed up, took pictures and never got to dance," Edgar wrote on his social media. "Everybody knows I put my last opportunity on the line because that's the kind of people we are. Let's finally get this done! FYI your last fight wast epic, let's put another one in the history books! May I have this Dance?"
–
Comments
comments