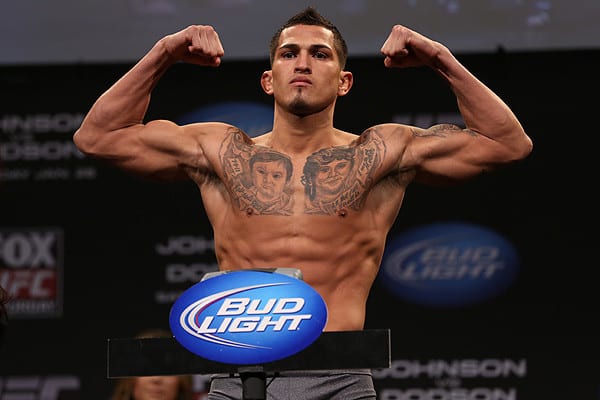 It's safe to say that whenever Nate Diaz is linked to a contest, there is often some trepidation from UFC fans as to if we'll ever actually see the man enter the cage.
While both Diaz brothers have been out of the cage for quite some time, it never seemed like they were actually out of fighting. Both Nick and Nate are frequently in headlines about various different contests, but for whatever reason things never seem to pan out. Most recently, the younger Diaz brother was supposed to fight Dustin Poirier at the end of last year, only for the bout to fall through.
So when it was announced Diaz would return to fighting for the first time in 3 years against Anthony Pettis on August 17 at UFC 241, some observers felt it would be better to temper expectations until fight night actually came around.
Ask Pettis, however, and you'll see there's less of a concern. Because while Diaz might not be the easiest man for the UFC to get into the 4oz gloves, Pettis believes there is an external factor that should make everyone a little bit more relaxed.
Namely, they actually want to punch each other.
"Me and Nate, we've had beef and drama for a long time," Pettis said, speaking on the Ariel Helwani Show. "[This is] just something that was supposed to happen a long time ago and it's finally happening, and it's happening at a comfortable weight class for both of us so it's going to be a scrap.
"I don't remember what actual event took place, but we just had this drama. Every time we saw each other something was going to happen, it was just one of those things. I think he might have been jealous I was the champ, he wanted his shot at me, and then he got his McGregor fight and he went M.I.A., so that chapter never closed in my life. For me this is something that had to happen. … It's time to to back it up. Everything he's been talking, everything he's been saying, all the drama he's been trying to cause at the UFC events. Let's settle it now. In the Octagon, exactly how I want it, man, I'm excited for this fight. 100% motivated. I want to knock this guy out."
"We really don't like each other, so I feel like it's not just a fight for him. This is personal stuff," Pettis continued. "I feel like this is something he wants to do. I did what I had to do, I'll be ready to fight on August 17, I will be there. It's on him now."
And if you think Pettis is putting on an act to play up the animosity in an attempt to try and drub up interest in the fight, he says you're wrong. That's not something he's done before, and not something he's keen on starting now. Instead, it's just a matter of fact.
"I'm going right to work," Pettis said. "I can't wait to hurt this guy. This training camp.. like I'm telling you, this is a personal fight for me, so I'm getting to work right away."
–
Comments
comments