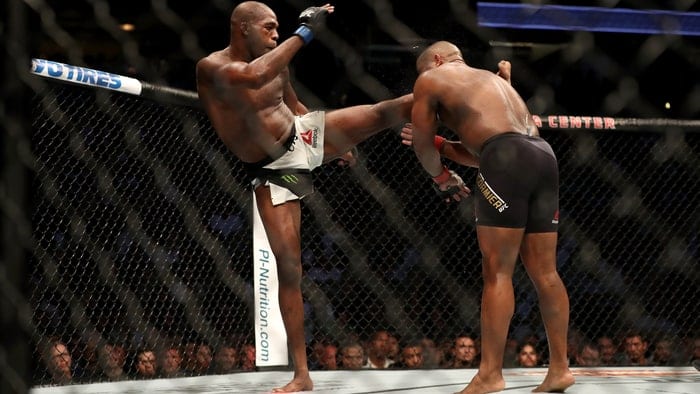 Jon Jones is once again sitting atop the UFC's light heavyweight mountain after defeating Daniel Cormier at UFC 214 to reclaim the belt that issues outside of the octagon forced him to surrender a couple of years prior.
After an ultra competitive first two rounds, which some pundits suggest that Cormier might have shaded, Jones brought an end to proceedings in the third after a left headkick staggered his opponent. Referee John McCarthy stepped into stop the contest after Jones landed several unanswered blows to Cormier with two minutes left in the round.
The fight went about as well as Jones could have hoped, especially when you consider that it was just the third bout that he has competed in since January of 2015 — but a last minute hitch during fight-week nearly left the challenger with an even more momentous task ahead of him.
Jackson Wink head coach Mike Winklejohn told Submission Radio (as per Flocombat) that Jones suffered an arm injury in training on the week of the fight which left the fighter with a limited range of movement as the time ticked ever-closer to the UFC 214 main event.
"I'll share with you [that] a couple nights before the fight, yeah, he couldn't lift his arm —he had hurt it wrestling. He wrestled a little too hard with his partner, maybe a lack of warm-ups, I'm not sure, but it was kind of scary.
"He basically didn't say anything other than that he's fighting. He didn't say anything about it. Let me put it that way. No matter how much it hurt, if it was tingling, if it felt weak, Jon didn't say anything. He just went and fought. That's why Jon Jones is the champion. He has that mindset."
Jones improved his career record to 23-1 with the win and issued a challenge to current WWE professional wrestler Brock Lesnar in the immediate aftermath of the bout.
Comments
comments