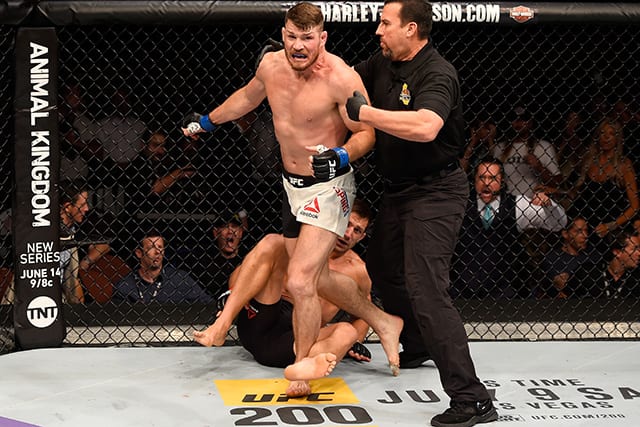 Some might say that Michael Bisping at least partially responsible for the downturn in Luke Rockhold's career which has seen him win just once since that night in December 2015 when he took advantage of an errant spin kick from Chris Weidman to claim middleweight gold, but according to the recently retired Brit he takes absolutely no pleasure is seeing his former rival's struggles in the cage.
Rockhold can claim a sole win against David Branch as the sole uptick in his fight career across the last four years. The American Kickboxing Academy stalwart lost his title to Bisping in a first-round, short notice defeat in Australia and has since also lost to Yoel Romero and, more recently, Jan Blachowicz in his debut at light heavyweight.
And Bisping, for one, isn't taking any glee from the run of defeats.
"The amount of messages that people have sent me because everyone seems to think that I'm gonna take pleasure in seeing Luke knocked out like that, and it's the opposite…the opposite. I really feel for the guy. I do," he said on his Believe You Me podcast (via mma news).
"I feel bad for him. It's a real shame. Not only did he get his jaw broke, but he's now been knocked out cold, viciously, in three of his last four fights. And I can't help but think that he's done."
In addition to the knockouts Rockhold suffered against Bisping and Romero, his jaw was broken by a swinging left hook from Blachowicz which is making people — including Bisping — wonder aloud if this should be seen as a reason to step away from the sport for the 34-year-old.
"Now that doesn't mean that he's gonna be. What he could do is come back and prove everybody wrong, prove me wrong," Bispoing said. "That's what I would've done. That's kind of what I did. And if he does that, then my god, he'll have my respect forever.
"But I gotta say, the writing on the wall looks like his career is over. It's not only the fact that A, he's been knocked out three times out of his last four," Bisping continued. "It's not only the fact that he's got a broken jaw, and that's gonna take some time to heal back from.
"It's also the fact that it's one thing getting knocked out cold once and coming back from that. But when you've been knocked out cold three of your last four, I mean, that is some psychological demons to overcome."
Comments
comments