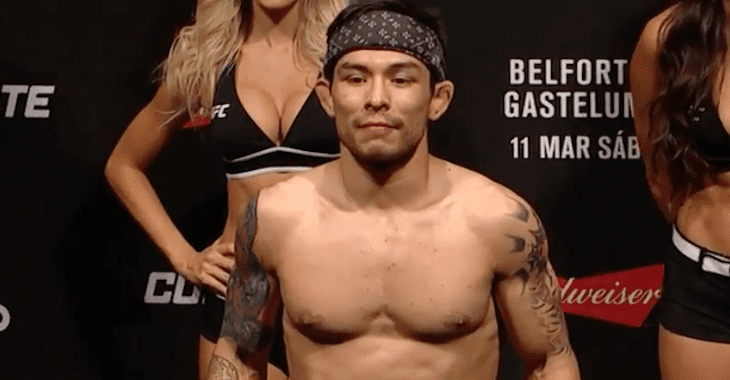 If the UFC's flyweight division had been flying somewhat under the radar recently, that has all changed over the course of the last couple of days.
125-pound kingpin Demetrious Johnson penned a lengthy missive over the weekend in which he railed against the UFC's treatment of him and, as he sees it, their unfair insistence that he face former bantamweight champion TJ Dillashaw in his next title defense. Johnson had already agreed to face Ray Borg in his next bout, where a win would break the UFC record for consecutive title defences currently held by Anderson Silva, but claims that the UFC threatened to fold the entire flyweight division if he failed to agree terms on a fight with Dillashaw.
Tired of the UFC's "bullying" as he sees it, Johnson has taken a stand and explained his feelings on Monday's edition of The MMA Hour in which he stated that he wouldn't be coerced into taking the Dillashaw fight by what he perceives to be strong-arm tactics from the UFC.
"I said close the motherfucking division then," Johnson said to Ariel Helwani. "Because if somebody is willing to do that, that just shows you that they have no interest whatsoever of working with the champion. I never missed weight, always showed up on time, did all of my interviews on fight week, traveled to Australia in coach two times for the flyweight division. I've done a lot.
"I respect the UFC saying, 'Hey, we're gonna close your fucking division, take T.J. to fight,'" he continued. "Sounds good. Here's my stance: Go ahead and fucking close it. Like I respect them being honest and straightforward with it. But don't expect me to be, 'OK, I'll take the TJ fight if you're gonna close my division.' No, no, no, no. That's not how it works. What have I been doing the last five years in this division? Trying to make it the best division in the world."
Ray Borg, the presumed next in line among current members of the UFC's flyweight roster, has added his voice to the issue and it would seem that he is very much siding with Johnson in the dispute.
In an interview with MMAJunkie which was released prior to Johnson's statement about preferring to give opportunities to full-time members of the 125-pound division, Borg said: "That's actually where I gained respect for him. And some fans are seeing it. Because he is respecting the division, and the rankings, by wanting to fight me.
"I'll get a title shot regardless. Whether I have to wait, two more fights, one more fight, it doesn't matter. I'm going to get a title shot before D.J. is done fighting. I think it's proper for D.J. to fight the contenders in his division. And then eliminate, do what he's got to do. And then super fights can happen when it's a champion vs. a champion.
"I agree with D.J. and a lot of people that are saying that T.J. – although he's going to be a serious competitor and things like that – is not a contender in the 125-pound division. He's a contender in the 135-pound division. But not the 125-pound division."
Whatever happens next you feel that Johnson, one of the most underappreciated champions in the UFC, has made it so his voice has been heard and, somewhat ironically, it took a dispute like this to give the flyweight division the exposure it deserves.
Comments
comments