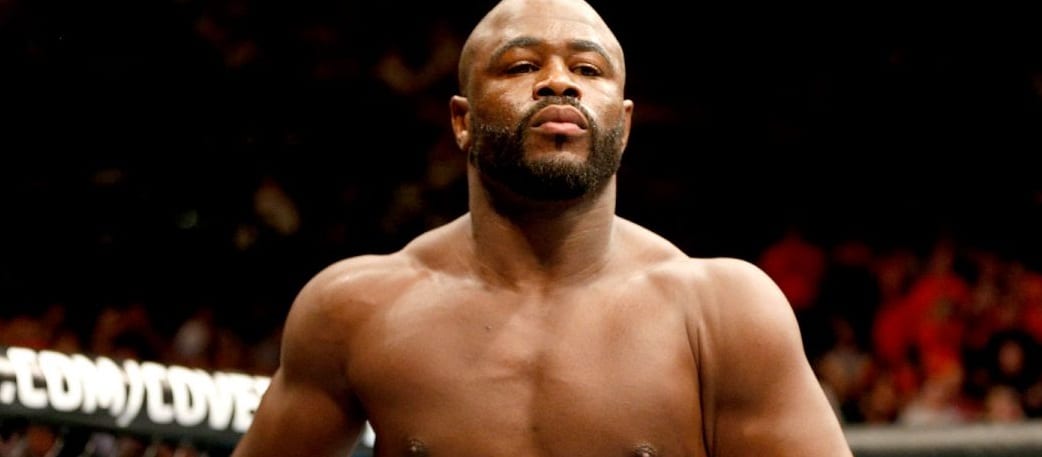 Rashad Evans has announced his retirement from mixed martial arts, calling it a day on a career that lasted 14 years.
Evans made his UFC debut back in 2005, winning the second season of The Ultimate Fighter, before going on to win the UFC light heavyweight championship three years later in 2008. While the later stages of his career saw Evans drop down the rankings, as well as a switch to middleweight and back to light heavyweight, at his athletic prime he was one of the best in the sport.
Despite that success, time takes its toll on all athletes, and Evans is no different. After five straight defeats, his most recent a first round knockout, the former champion has elected to call time on fighting.
"It's hard," Evans said, announcing his decision on the Ariel Helwani MMA Show today. "I don't want to go out losing, or nothing like that, but at the same time it's what I need. It's what I need to do because I feel like I have other things in life that are calling me to go, too. I thought how hard it would be for me to really say these words or really make a statement about it, but I needed to. It's part of me healing and just accepting the what-is. I can't fool myself any longer about it."
While newer fans might be unaware of his early success (his last victory came in 2013), Evans has been involved in some of mixed martial arts most intriguing rivalries. His 2010 feud with Quinton 'Rampage' Jackson captured the public's imagination, not least in part to their dynamic — and tense — chemistry whenever they were put next to one and other. Their fight at UFC 114 is reported to have cracked a million pay-per-view buys, with neither man holding a title at the time.
After that contest, two more victories had Evans in line to fight then-champion Jon Jones, itself another iconic feud. After spending time together as training partners, with Evans playing something of a mentor role to the up and coming Jones, their contest at UFC 145 was based around betrayal and the student overcoming the master, with Evans clearly hurt by his old team at the gym of Jackson-Winklejohn.
Truthfully, that bout with Jones was the last time Evans was at the peak of the sport, and injuries appeared to take their toll, eventually robbing him of his trademark in-and-out movement.
While most fighters often battle with retirement, Evans himself is adamant this is goodbye, claiming he no longer has the passion required to compete with the young guns fighting today.
"I can say for certainty that I won't fight again," Evans said. "I feel like there's other things in life I want to do. I know there's other things in life I want to do. … It's so much that goes into it all. At one point in my life I felt as if fighting was everything – it was everything. But now, I put life second. But now life is taking over and fighting is becoming second. Competing in a sport like MMA where you have a lot of guys who haven't been to the top of the mountain, who haven't experienced the things I've experienced, they're hungry for it. For me, I was just lukewarm."
Rashad Evans, 38, leaves the sport with a record of 19-8.
Comments
comments