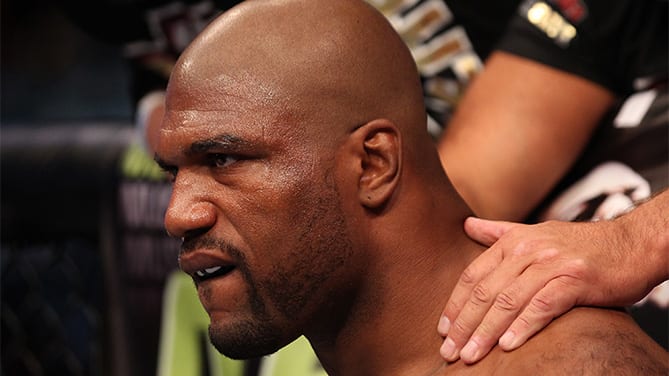 Former UFC light heavyweight champion Quinton 'Rampage' Jackson recently confirmed that he had signed a multi-fight deal with Bellator MMA. Not only that, he was swiftly confirmed as one of eight participants in the organisation's tournament to crown a new heavyweight champion — but his placement on the tournament comes with a few caveats. 
Known primarily for his stand-up game, Jackson has made no bones of his displeasure at being paired with wrestlers and has singled out Chael Sonnen as a fighter who he has little interest in facing in the tournament.
Jackson's opponent in the opening round has yet to be announced but with Fedor Emelianenko, Frank Mir, Roy Nelson and Matt Mitrione (the four participants whose careers have taken place exclusively at heavyweight, incidentally) already booked, that leaves either Ryan Bader, Chael Sonnen or Muhammed Lawal as his potential opponent.
Jackson lost a decision to Lawal in his most recent fight last March, so it is unlikely — though not impossible — that Bellator will pair them up once more, so that leaves Ryan Bader and Sonnen, both known for their wrestling chops, as the likely first round opponents for Jackson.
"I told my manager that I'm not looking forward to fight Chael Sonnen," Jackson said on a recent edition of The MMA Hour.
"I just fought a leg-humping wrestler. Why would I want to fight another fighter who is strictly known for wrestling? Honestly, I would say that wouldn't be a matchup I'd be looking forward to, and I would be upset coming into the Bellator contract fresh off the bat and them giving me a wrestler to be honest. Who wants to see me fight another wrestler, why wouldn't a promoter have a guy like me who loves to stand and bang and have exciting fights, why would a promoter constantly want to keep putting me with wrestlers?"
One such fighter who would presumably contest a bout with Jackson on the feet would be former PRIDE heavyweight champion Fedor Emelianenko, though this isn't a fight that Jackson is chasing either.
"Fedor is my favorite fighter of all time," Jackson added. "Fedor is my favorite fighter, so that would be an awkward matchup if i had to fight him, fighting your favorite fighter of all-time. A tournament is a tournament. I would never sign a deal where I had to fight Fedor unless I was being paid like $10 million. For $10 million, I'll fight my mama. If it's a tournament, that's the only way.
"I'm not looking forward to fighting Chael Sonnen in the first round of the damn tournament. I'll fight anybody. My job is to fight. But you know, I want a fight that I'm going to be excited about."
Comments
comments