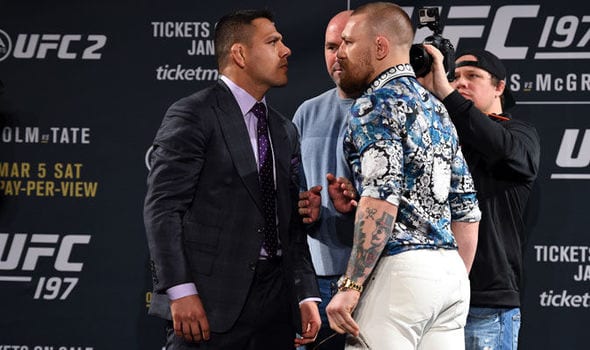 Rafael Dos Anjos is making his case for a fight with Conor McGregor.
The two have a history, with the pair originally scheduled to battle for Dos Anjos' then lightweight championship at UFC 196, with McGregor entering the bout as featherweight champion. In the end, Dos Anjos pulled out of the fight with injury, leaving McGregor to enter a brace of contests with Nate Diaz.
It's a fight Dos Anjos has been desperate to get back, and now that McGregor apparently has not obvious fights available, it's a fight he believes can finally be made.
"I was the lightweight champion, he was coming up to challenge me and also, I got a lot of fights. That was the only one that I didn't make it," Dos Anjos said, speaking to MMAJunkie. "That's what I would like to have on my record, a fight with Conor. That's why I tweeted out, 'No more ifs.' You see a lot of people say, 'If that fight would've happened; If RDA won, If Conor won, what would've happened with Conor? If Conor had lost what would've happened?' A lot of ifs. So it's time to just put that thing on the table and let's go. Let's make this fight happen at any weight."
McGregor recently announced his intentions to walk away from mixed martial arts, citing a lack of interest in the options currently available to him with the UFC seemingly hoping to keep him waiting for the winner of the Khabib Nurmagmedov vs. Justin Gaethje fight later this year.
Dos Anjos isn't buying it.
"I don't believe he's retiring right now," Dos Anjos said. "That's his third time retiring. I'm not buying that. I don't think nobody is buying that. He's too young and I believe he still has a lot in him. I don't think he's retiring right now.
"If you look at the whole situation, with me and Conor, I am ahead of him in the rankings at welterweight and this fight was supposed to happen four years ago and it didn't happen. That would be a great fight. That's the fight to make."
Comments
comments