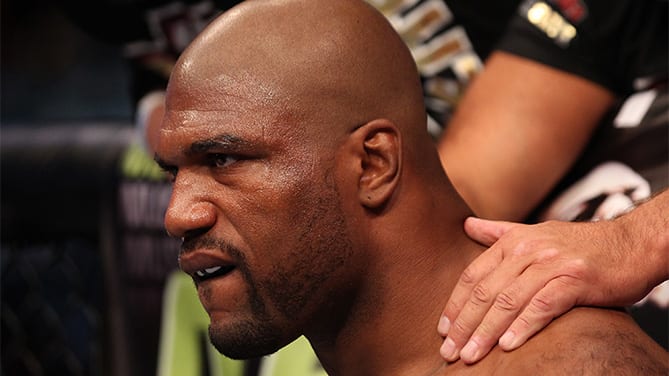 Quinton 'Rampage' Jackson just re-signed with Bellator MMA, and he's already not impressed with the promotion's decision making.
Set to take part in Bellator's recently announced heavyweight tournament, reports are that Jackson will be matched up against Chael Sonnen in the opening round. Despite Sonnen likely being the smallest man in the competition, Jackson is emphatically against the idea of such a clash.
"I told my manager that I'm not looking forward to fight Chael Sonnen," Jackson said on The MMA Hour this week. "I just fought a leg-humping wrestler. Why would I want to fight another fighter who is strictly known for wrestling?
"Why would Bellator want to me against another wrestler right off the bat?" Jackson continued. "Honestly, I would say that wouldn't be a matchup I'd be looking forward to, and I would be upset coming into the Bellator contract fresh off the bat and them giving me a wrestler to be honest. Who wants to see me fight another wrestler, why wouldn't a promoter have a guy like me who loves to stand and bang and have exciting fights, why would a promoter constantly want to keep putting me with wrestlers?"
It's a long standing complaint of Jacksons. Even back in the UFC, the former light heavyweight champion would often go on record about his frustration in fighting men who would implement heavy grappling styles. Should he face and defeat Sonnen, however, he'll at least be tantalized with the carrot of facing some fighter's more focused on striking — not that he's going to sound enthusiastic about that right now.
"I didn't even know about the damn tournament to be honest, until I re-signed my agreement," Jackson said. "Then I see all over the damn media about the damn tournament, and I'm like aww fuck, here we go with this shit. But I don't care. I'm a fighter. I used to like fighting in the Grand Prix [from PRIDE]. I don't care about tournaments and shit.
"I'm just saying. I'm not looking forward to fighting Chael Sonnen in the first round of the damn tournament. I'll fight anybody. My job is to fight. But you know, I want a fight that I'm going to be excited about."
Jackson is rumoured to face Sonnen in early 2018, potentially even as soon as January. Other fights reported for the opening round of the Bellator tournament are Fedor Emelianenko vs. Frank Mir and Roy Nelson vs. Matt Mitrione.
Comments
comments