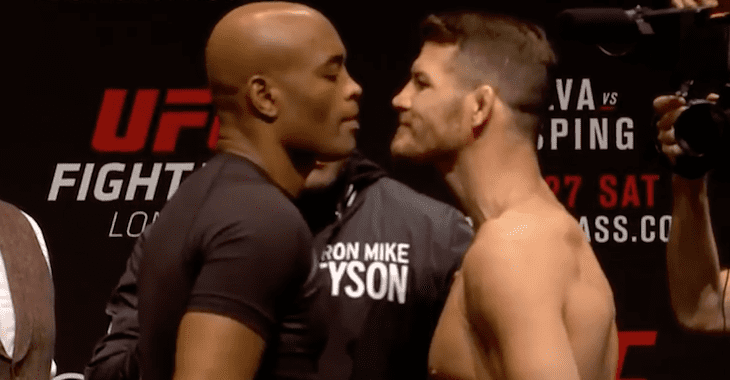 Throughout his career, Michael Bisping has been one of the most vocal speakers when it comes to steroids. Infuriated by the use of banned substances in the sports of mixed martial arts, the former middleweight champion has repeatedly voiced his disgust at users of drugs in the sport.
Interestingly enough, however, Bisping's career has often been introduced to the controversy of banned substances. On three occasions prior to his chance at then-champion Luke Rockhold's belt, Bisping lost three title eliminator bouts to men with a blurred history about steroids and performance enhancing drugs. The Brit makes no bones about the fact that once USADA's strict testing was implemented in the UFC, he shortly became champion.
Now, at the very late stage of his storied career, Bisping is brought into the PED conversation again. Anderson Silva (a former opponent of Bisping) was scheduled to face Kelvin Gastelum in the Saturday after this in Shanghai, China. Last week, Silva was notified of having failed an out-of-competition test conducted by the anti-doping agency, and in a stunning turn of events, Bisping has offered to fight in Silva's stead.
Not that he's impressed with Silva's latest controversy.
"I don't want to kick a man when he's down," Bisping said on The MMA Hour regarding Silva's failed test. "But there's no surprise here. There's no shock. I mean I was convinced anyway when we fought. Listen, he was cheating his whole career. I always said a man of that age, after the career that Anderson Silva's had, he doesn't just start taking steroids at whatever age he was when he fought Nick Diaz.
"You just don't do that, the logic doesn't stack up. And because he's the great Anderson Silva, and because he came out with a bunch of fucking great explanations — viagra, then it was this, then it was that, then he was recovering from the leg — everybody seemed to give him a pass. He got away with it, and it got shrugged under the carpet. And here we are lo and behold again."
And while Silva is yet to make a formal statement on the infraction, Bisping is wasting no time in making predictions for what comes next.
"No doubt he's going to come out and say it was a tainted supplement, and his team are going to put their heads together and they're going to come out with some crap, or say it was kangaroo meat or horse meat or whatever the hell they want to say," Bisping said. "They'll come out, and some people will believe him and some people won't. Just like Yoel Romero. Fact of the matter is, most of the people in this sport are taking steroids, and they should all be ashamed of themselves.
"If you're man enough to fight.. listen, I've done everything I've done through blood, sweat and tears, martial arts training. I've done martial arts since I was eight years old. I've done it the old fashioned way."
Comments
comments