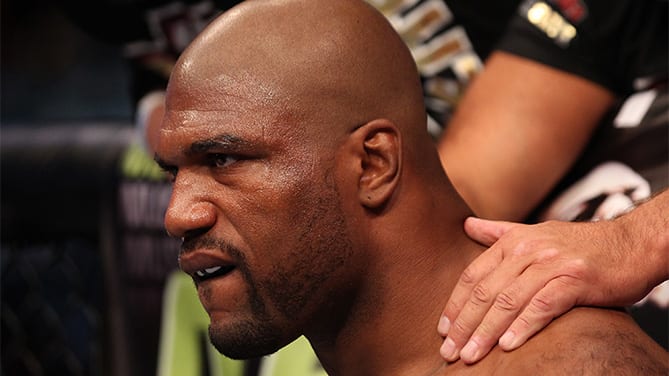 Quinton 'Rampage' Jackson is eyeing a potential return to the UFC, and aims to have multiple contests with the promotion.
Jackson has been out of action since losing a decision to Muhammad Lawal in the last fight of his Bellator contract. However, while most would face a period of free agency, Jackson already finds himself engaged in a contract with his old promotion, after a legal issue had him technically signed to two mixed martial art employers.
After Jackson initially signed with Bellator back in 2013, the light heavyweight found himself disillusioned with what he felt were unkept promises from former Bellator boss Bjorn Rebney. Citing Rebney as having dishonoured their agreement, Jackson left Bellator and returned to the UFC, only to have Bellator hit him with a lawsuit. While Jackson was able to make one appearance for his old bosses (against Fabio Maldanado at UFC 186), he was instructed to return to Bellator and complete his agreement.
While that contract is now completed, Jackson's agreement he signed with the UFC ahead of UFC 186 is still technically binding. The former UFC champion is now currently discussing terms with the brass about a return.
"It was no secret that I was in a lawsuit with Bellator," Jackson said, speaking on The MMA Hour. "After I went back to the UFC to fight, who was that? Fabio Mapobabo [Maldanado]. So then I had to go back to Bellator and fulfil the contract, and that contract ran out, and I still have an existing contract with the UFC.
"But things changing in the UFC. They sold the company and stuff since I left, so I don't know. I haven't talked to Dana [White] personally about it. My management team have been talking to him. But I think the UFC doing great things and stuff for the company and everything. They're in a good place; I just don't know what's going to happen to me."
Jackson would indeed be returning to an interesting scene. Currently, the UFC light heavyweight division is in a form of chaos, with Daniel Cormier being rewarded back his 205-pound title after rival Jon Jones tested positive for the steroid Turinabol. While Jackson would most likely be considered away from the title picture these days, in a UFC climate where name value appears to mean more than ever, stranger things have happened.
According to Jackson, however, he's interested in fighting for the foreseeable future regardless.
"I think I got three good fights in me," he said. "Then after that I'll see if I have three more good fights in me. I really would like to go fight to fight because in MMA I think fighters can get old overnight."
.@Rampage4Real says he's got 3 more fights in him #TheMMAHour https://t.co/HbjZRlZgF0 pic.twitter.com/fRqqp4EPhr

— MMAFighting.com (@MMAFighting) September 18, 2017
—
Comments
comments