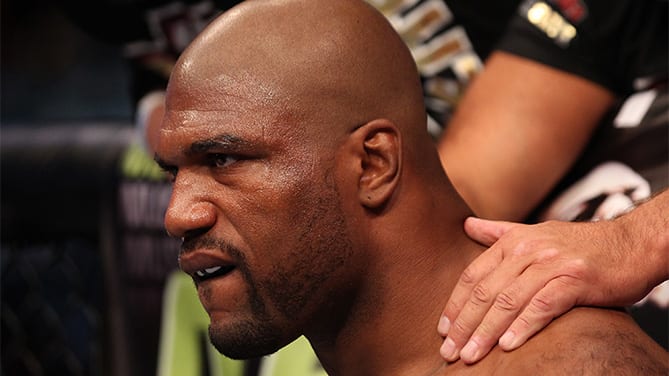 As a near 20-year veteran of mixed martial arts, Quinton 'Rampage' Jackson has spent enough time in the sport to garner an opinion worth listening to.
The 40-year old has just had his latest fight announced — a fourth meeting with old rival Wanderlei Silva — but cuts a far more relaxed figure than he did in his younger days. Because of that, gone are the (pardon the puns) rampages, and instead come the more gathered and nuanced opinions. Case in point, the former UFC light heavyweight champion's thoughts on fighter unionization.
For Jackson, the idea of fighters coming together to form a group so as to better represent their needs would be a welcome addition to the landscape of MMA — although he can't see it happening.
"Boxing been around for, what, over a hundred years now and they've never done it," Jackson said, speaking with Luke Thomas on SiriusXM Rush. "I know MMA is a different sport, you can't really compare it, [but] the reason in my opinion why I don't think a union will work is because for one, the UFC is so popular now. They have fan boys that will fight for literally nothing right now as we speak. I've heard of fighters, after they fight and pay their manager, trainers and sparring partners, taxes, whatever, they lose money. Who wants to do that? Some people fight for fame. So if the fighters go on strike and try to form a union, the show must go on, so [the UFC] will just pump out ultimate fighters, the guy who just fighting for peanuts and just to get famous.
"The guys that fight to feed their families and put their kids through college and stuff, we'll starve. Because these guys, the UFC, they know how to make people famous. They can do it, whoever they want, if they promote them hard enough they can make people famous. In my opinion that's why it wouldn't work."
For Jackson, it's not just because fighters need a way to collectively argue for better a situation now, but also for a life after the cage.
"I would love for MMA fighters to have some type of pension or union. I've had some ideas on some stuff that could work and where fighters could continue to make a living after they retire," Jackson said. "… A lot of boxers and MMA fighters go broke once they retire, because a lot of us, we don't go to school and take business.
"A lot of managers rip us off, you trust people with your money, the last thing you wanna do is training for a fight and worrying about whose ripping you off and things like that. … A lot of fighters they go broke, so I wish there was more to help us and to teach us what to invest in and some type of pension so we can continue to make a living even after we retire."
Recently, there was a moment where it seemed fighters were more unified than ever before, after UFC president Dana White's announcement the promotion would be returning to afternoon weigh-ins was met with public scorn by a number of fighters, although it remains to be seen whether or not that can be turned into anything substantial.
, the
–
Comments
comments