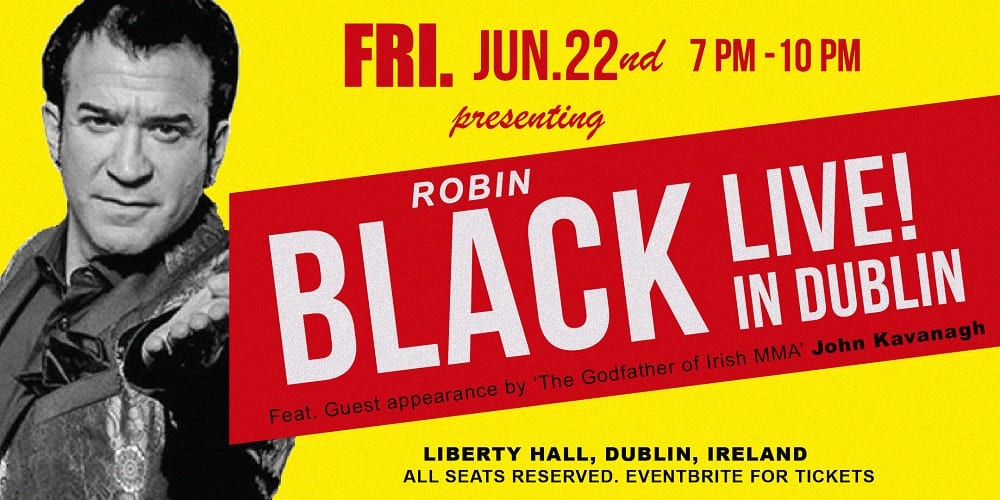 From touring the world with his glam rock band to country-hopping in support of his all-encompassing love of mixed martial arts, Robin Blak has seen it all.
The Canadian fight analyst hits Dublin this week for the latest leg of his Robin Black Live! tour, where he will tread the boards at Liberty Hall in the Irish capital on Friday June 22 and speaking exclusively with The Mac Life, Black explains why he just had to add an Irish leg to his never-ending tour.
"When I started training full time preparing for a pro fight back in 2006, they were calling Canada The Mecca of Mixed martial Arts," Black says. "We had GSP of course, but we also had so many great fighters for our size; Mark Hominick, Sam Stout and Patrick Cote were the ones people knew best, but I also looked up to guys like Ivan Menjivar, Justin Bruckmann, Claude Patrick, Joe Doerksen and a ton of others.
"We had such a great collection of true fighters and martial artists. Ireland is now unquestionably the 'Modern Mecca'. It's not just the fighters, but the nation. There's so much Pride in the Irish fighting spirit. Holy shit, I just love the vibe and the passion coming out of Dublin so much!"
One Minute #BREAKDOWN: Hello from #Dublin!

Excited 4 my show here Friday!
Let's celebrate w a @TheNotoriousMMA piece.
Enjoy The Hostilities. 🇮🇪@ufc @danawhite @CraigBorsari @joerogan @John_Kavanagh @BrendanSchaub #Ireland @TSN_Sports @Immikesheridan
pic.twitter.com/bfXVhV8p1k

— Robin Black (@robinblackmma) June 20, 2018
For a small country on one of the most westernmost parts of Europe, Ireland has always punched above its weight when it comes to combat sports and it is this fighting reputation which Black latched on to while planning his Irish show.
"I have SO many great memories and moments connected to McGregor, Coach Kavanagh, Paddy (Holohan) and the Irish fans I don't know where to start. One of my favourite interviews ever is with Coach Kavanagh in Las Vegas before the Mayweather fight. It's why I asked him to be my guest in my interview segment of my show Friday.
"John is a brilliant martial arts coach but also a brilliant mind. I really appreciate his perspectives on life and the world we live in. I can't wait to talk to him at the show. I have some great stories about Conor inadvertently helping get me a big job, stories about getting wasted with Irish fans in Vegas, stories about having a pint with Paddy. But I'll save those for Friday night!
"My band Robin Black and The Intergalactic Rock Stars performed in Dublin in around 2005 or 2006. Very little memory of it due to the friendly people and their liberal applications of Guinness. But, honestly, it was wonderful. especially the people. Crazy as hell but so incredibly kind and beautifully generous souls. "
Black's one-man show isn't just centered on fighting though. It is more, as he puts it, "punch drunk philosophy".
"Robin Black Live! is part comedy, part Ted Talk, part 'Punch-Drunk Philosophy'. I'll tell stories from my time in a band, to my time in a cage, to my time commentating Martial Arts and we shall have the time of our fucking lives. We'll take a break, drink some beers, then I'll interview Coach Kavanagh live.
"I'm there to make people laugh, sure, but even more I'm hoping I can share some lessons and ideas that have helped me live a fun life of adventure. Lessons that hopefully people can learn from without having to do some of the dangerous and crazy things that I've done, like wake up in my own urine in a Russian hotel room after having an impromptu match with a Sumo Champion in the streets of St. Petersburg."
While he is in town Black won't pass up the opportunity to take in a training session or two at SBG Ireland, something which he sees as a particular highlight of this trip.
"I can't wait too go train at SBG this week, I'm especially psyched to train some boxing with Owen Roddy on Thursday. He's a brilliant mind at simplifying the complexities of the chaos of hand to hand combat. I am so pumped to train with him. And I'm so excited to see my friends like you John Balfe, my guy David Mullins, and all my Irish mates.
"I've got friends and supporters flying in from England and mainland Europe for the show., its going to be such a blast. Hmm, Dublin – we shall do Martial Arts, drink Guinness, tell stories, and hang with good people. Y'know. We're going to do as the Irish do.
"See you all Friday! Enjoy The Hostilities My Friends!"
Comments
comments