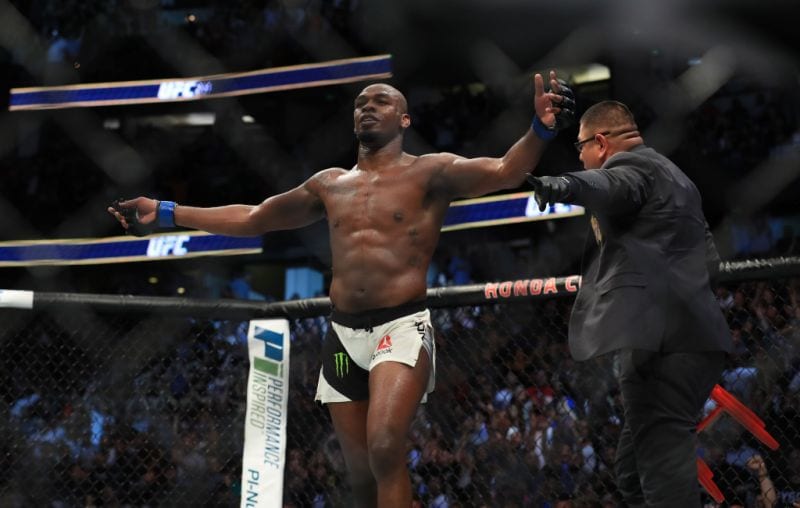 UFC 214 is in the books, and with it comes the end to one of the best rivalries in mixed martial arts history.
In the main event of the evening Jon Jones met Daniel Cormier, and after two solid rounds of fighting, Jones nailed a heavy headkick on his opponent and secured the victory.
The fight was the biggest put on in mixed martial arts this year, and it wasn't just fans paying attention. The two men's colleagues were watching keenly too. Here are some of the reactions from the professionals.
🐐🐐🐐

— Lando Vannata (@GroovyLando) July 30, 2017
Damn!!! Just like that!! Perfectly placed head kick by Jones. That's a game changer #UFC214
D.C. Was looking solid too

— Aljamain Sterling (@FunkMaster_UFC) July 30, 2017
Any second shit can change. Good fight. @ufc #bones

— Alpha Cat Zingano (@CatZingano) July 30, 2017
Man fuck that @dc_mma hold yo head up. You fought hard and got caught. The shit happens. Be a champ with or without the belt #ufc214

— Kevin MTP Lee (@MoTownPhenom) July 30, 2017
DC was ahead on the fight but Jones is so unpredictable #ufc214 What fight!!

— Rafael dos Anjos (@RdosAnjosMMA) July 30, 2017
The perfect end to a great #UFC214 – Rough to see DC in such a rough spot, but Jones is king of MMA. He would embarrass Lesnar.

— Dan Hardy (@danhardymma) July 30, 2017
Jon Jones is back. Hate it or love it, we are witnessing greatness

— Ian McCall (@Unclecreepymma) July 30, 2017
Jones is a real dude. I picked D.C. and put money on him. Respect.

— Matt Brown (@IamTheImmortal) July 30, 2017
Sucks to see D.C. Like this. Jon Jones acted like a true champ on that mic.

— Chris Weidman (@ChrisWeidmanUFC) July 30, 2017
@JonnyBones congrats Champ. Stop asking for retired fighters, I've been waiting to put my hands on you and so have all the fans.

— Alexander Gustafsson (@AlexTheMauler) July 30, 2017
—
Comments
comments