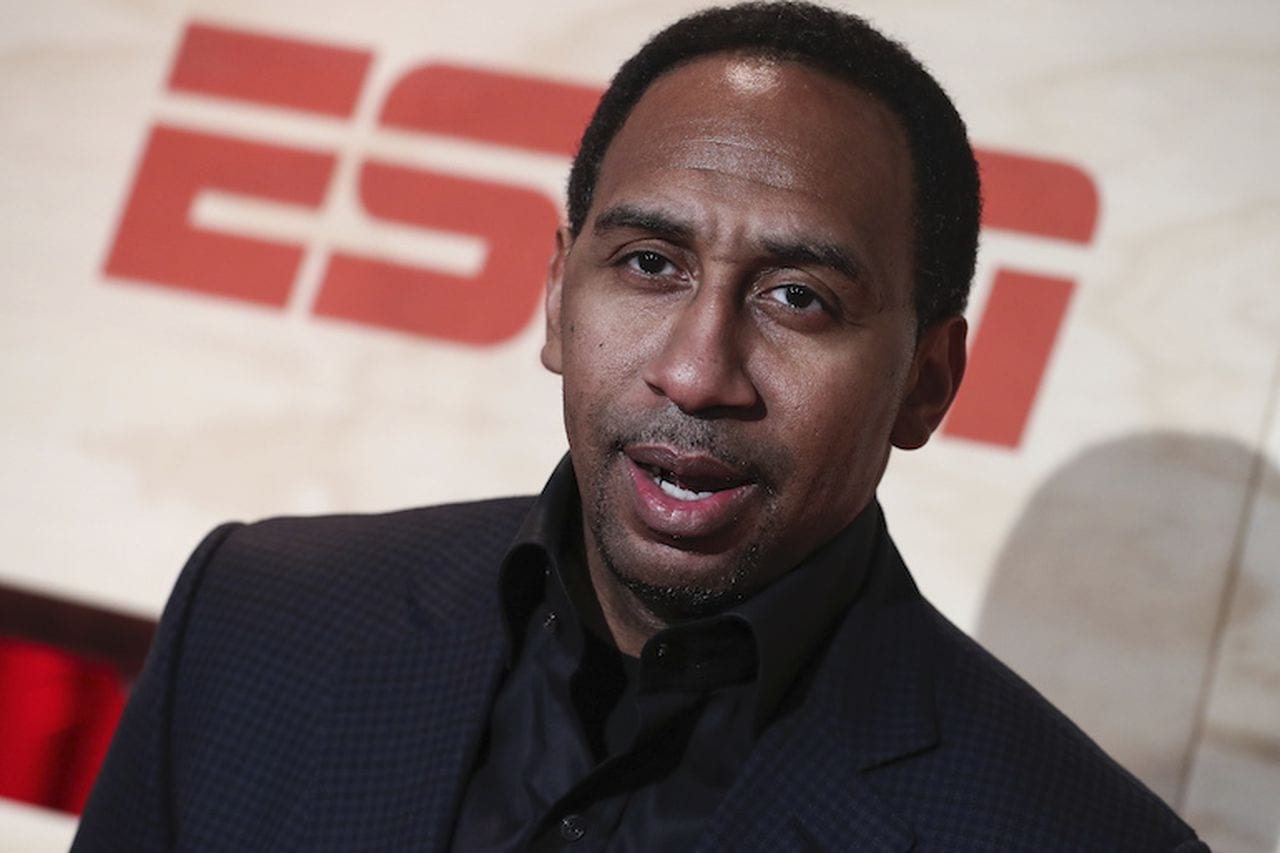 Stephen A. Smith is no stranger to controversy. In fact, he seems to actively court it and enjoy it.
So considering that, perhaps it's best to take his archaic comments regarding women in sports with a pinch of salt and as the headline bait they probably are. Still, as one of the leading figures in sports media, it's a shame Smith recently offered his opinion that he'd rather not see women in combat sports (he wasn't asked), to once again remind women athletes their goals and dreams aren't accepted all across the board just yet.
"First of all, I love [seeing women in sports management]. I think that there's an awful lot of women that are incredibly qualified to do the jobs that they're doing," Smith said, speaking on the Black on the Air podcast. Where I jump off the bandwagon is when they try to engage physically. For example, I don't ever want to see a woman boxing a man. I don't want to see that. I don't want to see a woman in the UFC fighting a man even though there are some women out there that'll kick a dude's butt. We get all that. When I think about pugilistic sports, I don't like seeing women involved in that at all. I just don't like it.
"I wouldn't promote legislating laws to prohibit them from doing so, but I don't want to see women punching each other in the face. I don't want to see women fighting in the octagon and stuff like that, but that's just me. What I would adamantly be against is them fighting men. I don't think that's cool. Plus, you don't ever want to give men license to believe that it's all right to be physical with a woman, to be quite honest with you. You don't want to do that."
Naturally, Smith's comments have raised eyebrows and drawn responses in the combat sports world — no doubt to Smith's own pleasure — and the pundit now has a multitude of fighters publicly berating his belief.
Here are some of those responses:
I appreciate your transparency @stephenasmith . Although I wish everyone at ESPN—and throughout the world—saw women's sports in a positive light, I assure you that we women don't need your support. #2020WorldMMAAwardsFightOfTheYear #NationalGirlsandWomenInSportsDay

— Joanna Jedrzejczyk (@joannamma) February 3, 2021
Hi @espn
If you intend to continue giving Stephen A. Smith a platform to preach inequality in sports, you are taking an incredible risk in alienating fans and athletes alike. It is incredibly disappointing that you would promote a person who is so derisive women in sport @espnW

— Julie Kedzie (@julesk_fighter) February 3, 2021
😂😂😂 @stephenasmith Cmon SON! https://t.co/mpeJJg8bvE pic.twitter.com/33qTM81XQm

— 🇧🇷 @CrisCyborg.Com 🇺🇸 (@criscyborg) February 2, 2021
🤦🏼‍♀️🤦🏼‍♀️🤦🏼‍♀️ …a lot I want to say here but I think the emoji sums it up just fine. https://t.co/WcuhMYzybv

— Laura Sanko (@laura_sanko) February 3, 2021
(1/2) Yes I understand he's expressing an opinion, but when you are the highest paid voice I sports and you start clutching your pearls about two female athletes doing THEIR JOB its an antiquated and small minded look.

— Laura Sanko (@laura_sanko) February 3, 2021
(2/2) I get the sense it's born out of some sort of misguided chivalry. I'm not saying he's an outright sexist. I don't know the man. But I can still find his opinion next level irritating. I imagine JJ and Zhang would agree with me.

— Laura Sanko (@laura_sanko) February 3, 2021
Who even cares about what this guys wants to see? Close your eyes 🤡 https://t.co/0oxNP16Fj9

— GILBERT BURNS DURINHO (@GilbertDurinho) February 3, 2021
"Shut up." – Weili Zhang https://t.co/xhbCMTk4KH

— Angela Hill (@AngieOverkill) February 2, 2021
–
Comments
comments