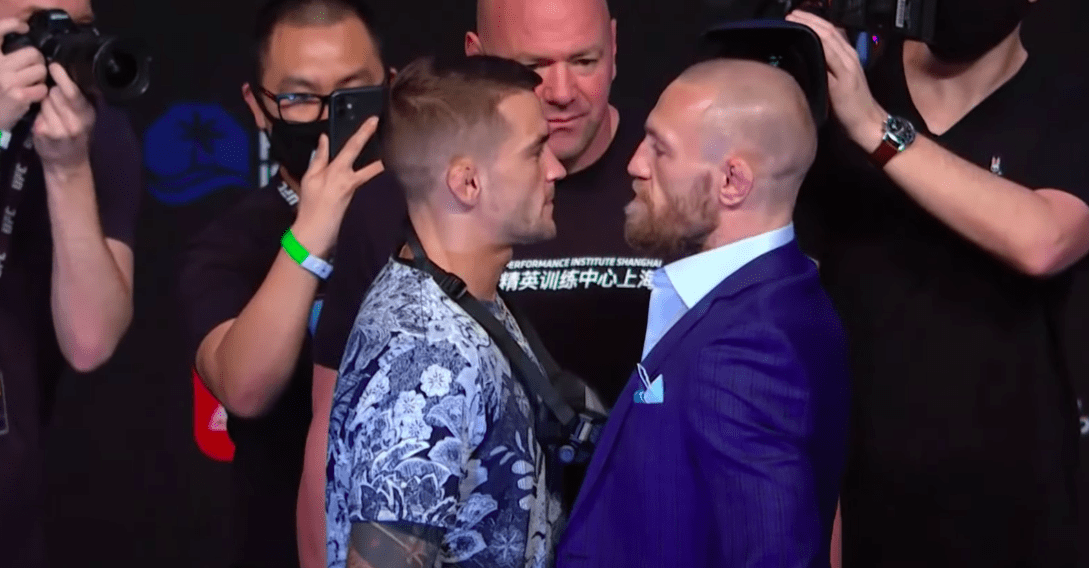 Dustin Poirier seems to be in.
Earlier today, Conor McGregor posted a lengthy statement to his social media regarding his UFC 257 loss to Poirier, noting the strategy the American implemented with leg kicks was incredibly effective. That said, McGregor seemed to take solace in areas of his own performance, and pledged to return for a trilogy fight with a new and improved gameplan that would see him emerge victorious.
"Thoughts on the bout: I enjoyed racking up some more time inside the famed UFC Octagon. 40 seconds in 3 years is all I'd had up to this bout. I was savouring every second and enjoying my work," McGregor wrote. "A little single disciplined in my approach and stance with mostly boxing. It's what I get for picking this bout and opponent as a precursor to a boxing match against Pacman. I deserved to get the legs kicked off me going in with this thinking. This is not the game to play around with. Besides this tho my shots were sharp and I was in full control. Albeit the leg attacks were building up on me throughout the course. 18 in total thrown at me, with the final one buckling my leg fully, that was that. The peroneal nerve compromised. Fascinating! First time to experience it. Then a tremendous finishing flurry by my opponent. Hats off! A well-fought fight by The Diamond.
"1 a piece now with a Trilogy bout for all the marbles! Wow! Exciting! Not a trilogy I was expecting, nor the tactical affair I was anticipating, but I'd be lying if I said this wasn't meant to be. This is exactly how this was always meant to be! Buzzing!!"
Shortly after making the above statement, Poirier took to his own social media, writing a simple message that said all that was required: "You know we are going to do it a 3rd time."
You know we are going to do it a 3rd time ⚔

— The Diamond (@DustinPoirier) February 3, 2021
–
Comments
comments