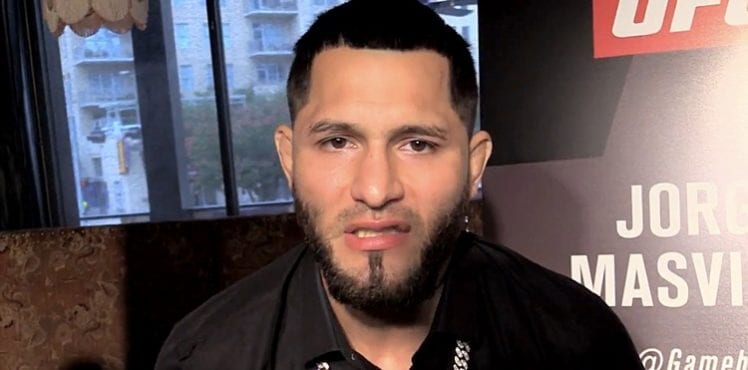 Well Jorge Masvidal said he was coming to silence London, and he did just that.
In the main event of UFC London, Masvidal knocked the Liverpudlian unconscious in the second round with a stunning punch combination that left viewers stunned.
And it wasn't just the fans who were left surprised — fighters watching around the world were equally surprised. Check out the reactions below.
Oh my god!! #UFCLondon2019

— Alan Jouban (@AlanJouban) March 16, 2019
@GamebredFighter showing how fucking gangster he really is tonight!!!! @ufc

— Ian McCall (@Unclecreepymma) March 16, 2019
Whoa Masvidal caught him clean !

— Jake Ellenberger (@EllenbergerMMA) March 16, 2019
Ladies and Gentleman @GamebredFighter

— Ian McCall (@Unclecreepymma) March 16, 2019
@GamebredFighter 👏🏼👏🏼👏🏼👏🏼👏🏼👏🏼👏🏼👏🏼👏🏼👏🏼👏🏼👏🏼👏🏼👏🏼 pic.twitter.com/fCDgPKiMrZ

— Amanda Nunes (@Amanda_Leoa) March 16, 2019
Damn. Till got slept! 😳 #UFCLondon

— Nicolas "Lokomotivo" Dalby (@DalbyMMA) March 16, 2019
Gawt damn! 😱 Gamebred! That was beautiful. I hope Till recovers well. #UFCLondon

— Tatiana Suarez (@TSPMMA115) March 16, 2019
Wooooooooouw @GamebredFighter huge congrats on the win. @darrentill2 both of you are true true warriors. I'm sure you'll get back from this. What. A. Fight. #UFCLONDON

— Alistair Overeem (@Alistairovereem) March 16, 2019
Gotta respect Masvidal so much. To come from a backyard street fighter to beating the best fighters in the world on a consistent basis for yrs now!

— James Vick (@JamesVickMMA) March 16, 2019
I said it two weeks ago, and I'll say it again tonight: You can never underestimate experience! Congratulations @GamebredFighter , great fight! You are a real fighter, and as tough as anyone in the game. @ufc #UFCLondon

— Demian Maia (@demianmaia) March 16, 2019
Congratulations @GamebredFighter !!!!

— The Diamond (@DustinPoirier) March 16, 2019
–
Comments
comments