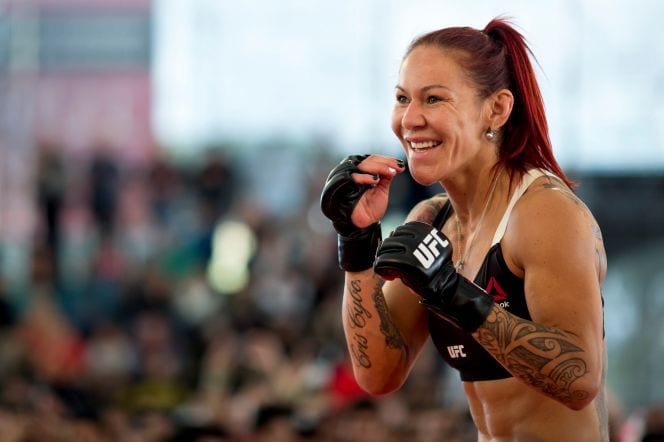 At UFC 219, the main event lived up to all expectations. Cris Cyborg and Holly Holm fought a hard five round contest, with each woman's style posing a different threat and challenge to the other.
In the end, it was Cyborg — who was more patient than many suspected she would be — who emerged victorious. As usual, plenty of the women's fellow fighters had much to say.
Check out just what the other professionals thought of Cyborg's impressive victory.
Wahhhthis is goood

— Alexander Jay🗽 (@ALIAQUINTA) December 31, 2017
@HollyHolm the first woman to win a round against #cyborg?? #ufc219 @ufc

— Miesha Tate (@MieshaTate) December 31, 2017
Some sort of hydraluic fluid is now running from Cyborg's face. #ufc219

— The Spartan (@EliasTheodorou) December 31, 2017
Cyborg won that last one. She's coming on strong now. Holly needs to kick more #ufc219

— JIMI MANUWA (@POSTERBOYJM) December 31, 2017
Holly was winning in the clinches and scoring while running. Cyborg didn't land much first two rounds. Tables turning now

— JIMI MANUWA (@POSTERBOYJM) December 31, 2017
I got 4-0 for @criscyborg! Cyborg is framing with her left hand when Holly blitzes then countering with her right. Smart!

— Alan Jouban (@AlanJouban) December 31, 2017
Does Holly's yelling annoy anyone else 😂🤷🏽‍♂️

— Dillon Danis (@dillondanis) December 31, 2017
👏🏼👏🏼👏🏼👏🏼

— Megan Olivi (@MeganOlivi) December 31, 2017
Great job from Cyborg. Is there any real opposition for her at 145? Or will she be like MM at 125? Cream crackered here so peace out #UFC219 pic.twitter.com/Y1JiPauDsv

— Coach Kavanagh (@John_Kavanagh) December 31, 2017
Great fight ladies. #ufc219

— Nina Ansaroff (@NinaAnsaroff) December 31, 2017
I don't care the results even Holly is my Hero

— Miesha Tate (@MieshaTate) December 31, 2017
Congrats to @criscyborg and congrats to @HollyHolm awesome 👏🏼 👏🏼👏🏼👏🏼

— Amanda Nunes (@Amanda_Leoa) December 31, 2017
Good fight ladies. I'd like to see it again. @ufc pic.twitter.com/lax0qwT4nd

— Alpha Cat Zingano (@CatZingano) December 31, 2017
—
Comments
comments