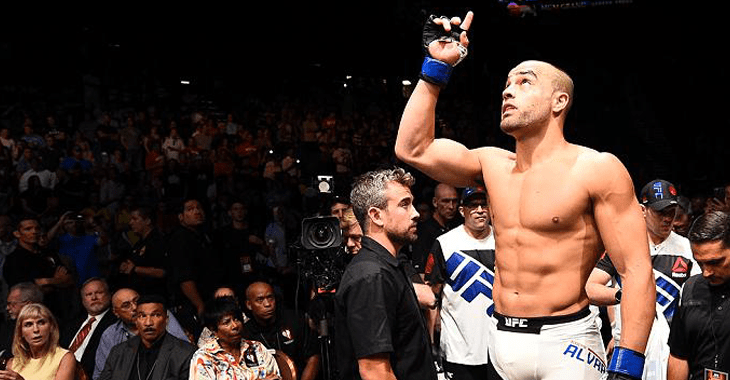 At UFC 218, Eddie Alvarez and Justin Gaethje went to battle as many predicted they would. 
An unbelievable three round war, both men didn't take their foot off the gas even once, before Alvarez landed a huge knee in the third to send Gaethje to the canvas, and end the fight.
As usual, many of the fighters watching were as excited as the fans. Here's a few of their reactions to a brilliant contest.
Justin is having trouble hurting Eddie so he can't stop him from pressuring him. Unreal fight

— Daniel Cormier (@dc_mma) December 3, 2017
Alvarez vs. Gaethje going into the third round got me like. #UFC218 pic.twitter.com/EhvZxieywA

— The Spartan (@EliasTheodorou) December 3, 2017
Clearly this is a weekend of crazy fights! Eddie super active and digging to the body. Justin slowing down #ufc218

— Sarah Kaufman (@mmasarah) December 3, 2017
Eddie just stole yancys 50 grand fuck man what a war #ufc217

— AlexSpartanNicholson (@spartanlife32) December 3, 2017
Leave it all in the cage. Alvarez vs Gaethje Fight of the night so far.

— Linton Vassell (@LDV_TheSwarm) December 3, 2017
Gaethje vs Alvarez buckle up now before you get a ticket! #UFC218

— Derek Brunson (@DerekBrunson) December 3, 2017
This fight 😳@ufc @ Newport News, Virginia https://t.co/yxRAuu1EuS

— Urijah Faber (@UrijahFaber) December 3, 2017
The #UFC218 Hype was real! These fights have been 🔥

— Cub Swanson (@CubSwanson) December 3, 2017
Damn #UfcDetroit #Crazy

— Platinum Mike Perry (@PlatinumPerry) December 3, 2017
. @Ealvarezfight & @Justin_Gaethje man! Two throwback fighters who will always be a sure bet to fight exciting and leave it all out there EVERY. Single. Time. #UFC218

— Kenny Florian (@kennyflorian) December 3, 2017
—
Comments
comments