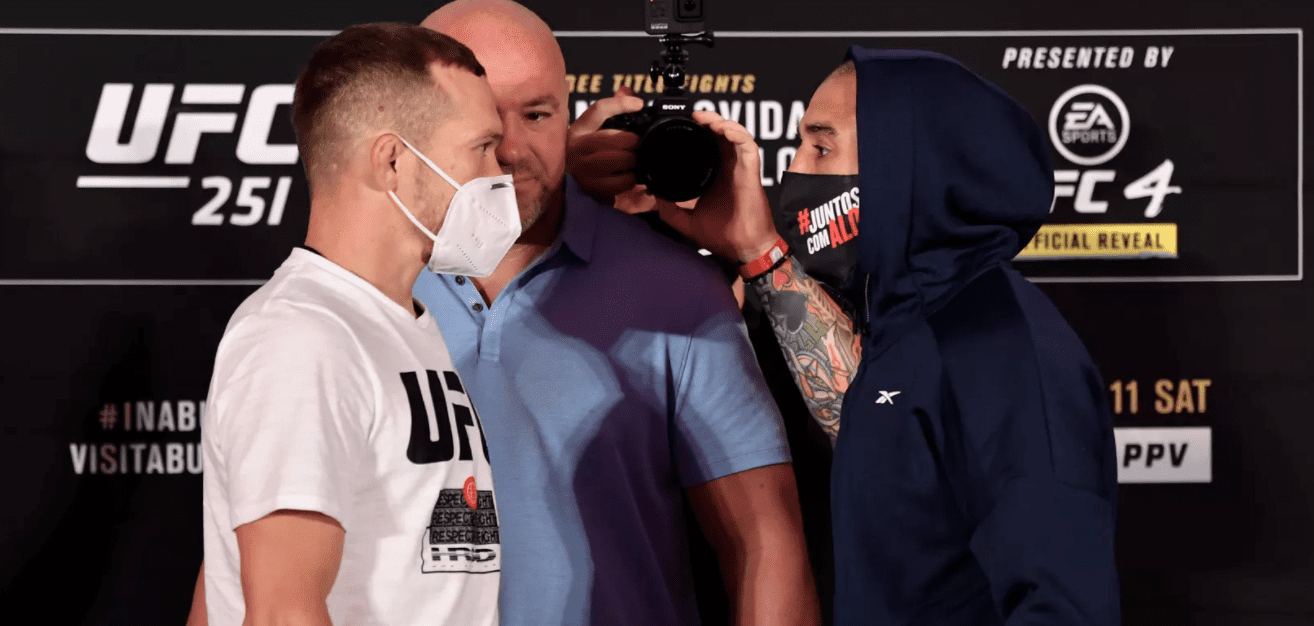 Petr Yan is the new UFC bantamweight champion, and in becoming so, he added a mixed martial arts legend to his CV.
Tonight in Abu Dhabi, Yan defeated Jose Aldo via stoppage in the fifth round to move atop the 135-pound division. While Aldo appeared resurgent early in the fight, Yan's youthfulness eventually overcame the Brazilian, and saw him end he contest with prolonged ground and pound.
Check out with the watching UFC fighters thought of the first title fight on Fight Island.
This is some high class shit right here. Love it #UFC251

— Justin Gaethje 🇺🇸 (@Justin_Gaethje) July 12, 2020
Slick work in there!! #UFCFightIsland

— Alan Jouban (@AlanJouban) July 12, 2020
I was fortunate that Aldo never even attempted a leg kick when we fought #UFCFightIsland 😁

— Cub Swanson (@CubSwanson) July 12, 2020
Aldo v. Yan is damn good. #UFCFightIsland pic.twitter.com/zGTz0eUPlb

— Lando Vannata (@GroovyLando) July 12, 2020
Great fight!! #FightIsland

— The Diamond (@DustinPoirier) July 12, 2020
Damn Yan is a beast!

— Funky (@Benaskren) July 12, 2020
Outstanding fight!! @funkmasterMMA vs Yan next??? #UFC251 #FightIsland

— Jessica Penne (@JessicaPenne) July 12, 2020
Great fight.. late stoppage #UFC251

— Shane Burgos (@HurricaneShaneB) July 12, 2020
Wow that ref should not ref fights!!

— Funky (@Benaskren) July 12, 2020
Late ass stoppage

— Edmen Shahbazyan (@edmenshahbazyan) July 12, 2020
Yan was impressive, especially in the last two rounds.

— Frankie Edgar (@FrankieEdgar) July 12, 2020
STOP IT. #UFC251

— Nina Ansaroff (@NinaAnsaroff) July 12, 2020
DUMD Referee 🤦🏾‍♂️🤦🏾‍♂️🤦🏾‍♂️ 😡😡😡 you there to protect the fighter STUPID

— GILBERT BURNS DURINHO (@GilbertDurinho) July 12, 2020
What a statement by Petr Yan 👏🏻👏🏻

We have a new 135lb champ and the division looks as exciting as ever with sooo many challengers hungry for that shot! #UFC251

— Megan Anderson (@MeganA_mma) July 12, 2020
Yan vs Aljo, book it.

— Funky (@Benaskren) July 12, 2020
@PetrYanUFC is a beast!!! Excited to see my man @funkmasterMMA have his much deserved shot now!! Let's go FUNK MASTER! #ufc251

— Stephen Thompson (@WonderboyMMA) July 12, 2020
It's only a matter of time @uFC 💪🏼💪🏼 #Cody2.0

— Cody Garbrandt (@Cody_Nolove) July 12, 2020
–
Comments
comments