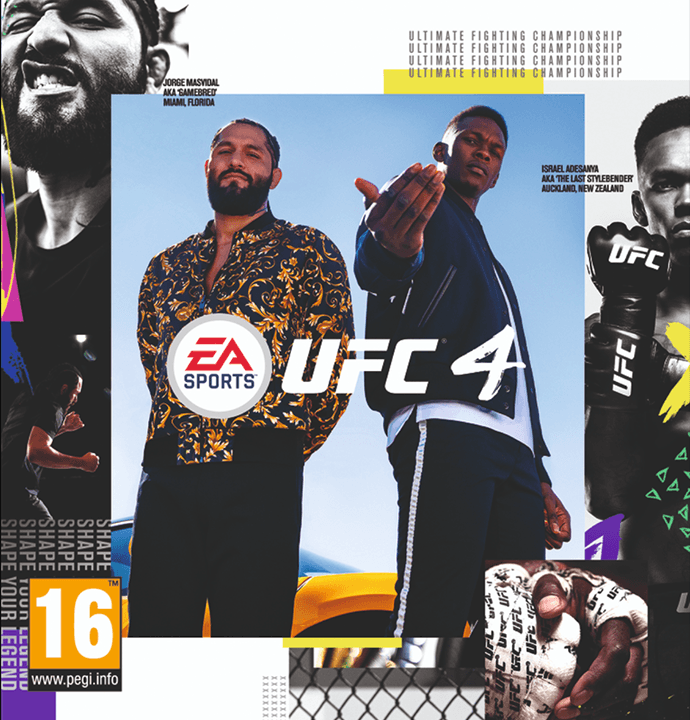 EA UFC 4 has arrived.
The next instalment of the gaming giant's collaboration with the mixed martial arts promotion was announced today ahead of UFC 251 in Abu Dhabi. The cover stars for the fourth edition of the game are Israel Adesanya and, in a nice turn of events, Jorge Masvidal, who headlines the card tonight against Kamaru Usman.
The game will be available for purchase on August 14.
In terms of updates, tweaks and new mechanics, fans will have plenty to look forward to, as the entire game has been given a facelift and multiple gameplay alterations. What follows is a list of the most noticeable changes for the series.
Boxing heavyweight champions Tyson Fury and Anthony Joshua are in the game as guest fighters.
The striking control system has been changed to a tap vs. holding system, with varied pressure on the controller buttons altering your fighter's attacks. The clinch too has seen a re-examination, with momentum and flow changing the outcome of the lock-ups.
Submissions, a constant issue for gamers, has been rebooted into something of multiple minigames, with chokeholds and joint locks demanding something different from the attacking fighter.
There have been huge additions to the create a fighter feature, with massive amounts of variety able to be implemented. You can have your fighter wear a crown, a lion head, PRIDE gloves, have different taunts, emotes, and all-round head to toe customizability.
The commentary has seen a change, with Daniel Cormier taking over the reigns from Joe Rogan to work alongside Jon Anik, and the two were even together in the recording studio to create better reactions.
There are new venues, which come with custom outfits and music, in the form of backyard fights and The Kumite (an underground temple). Fighters will be dressed appropriately, with basic gear in the garden and ropes around the wrists for the Kumite.
The UFC Apex is a playable arena.
The screen dynamics have changed for when a fighter has been rocked, with the sides of the screen glowing a menacing red as they attempt to recover.
Knockout replays look like something out of Fight Night, with close-up slow-mo shots of a fighter's jaw being rattled as they crash to the canvas.
In career mode, an attempt has been made to have your decisions have a long-lasting impact. You can decline contests offered to you by the UFC, but doing so on too many occasions will see you released from the promotion to return to World Fighting Alliance — where you could remain for the entirety of your career if you chose to.
According to developers, the choices you make will have effects right down to the individual strike selection you make. Training, sparring, bout agreements, all will cause different happenings for the player.
There will be microtransactions, with premium currency available for vanity items, but all are available through regular gameplay as well.
EA SPORTS UFC 4 is available worldwide on Friday, August 14 on PlayStation®4 and Xbox One. Players who pre-order* the game now will get boxers Tyson Fury and Anthony Joshua, along with a Backyard Customization Pack and Kumite Customization Pack containing cosmetic items. Additional benefits± are available for players who purchase UFC 4 through an in-game tile in UFC 3 or UFC 2, including 10% off UFC 4, martial arts legend Bruce Lee and 500 UFC points.
–
Comments
comments