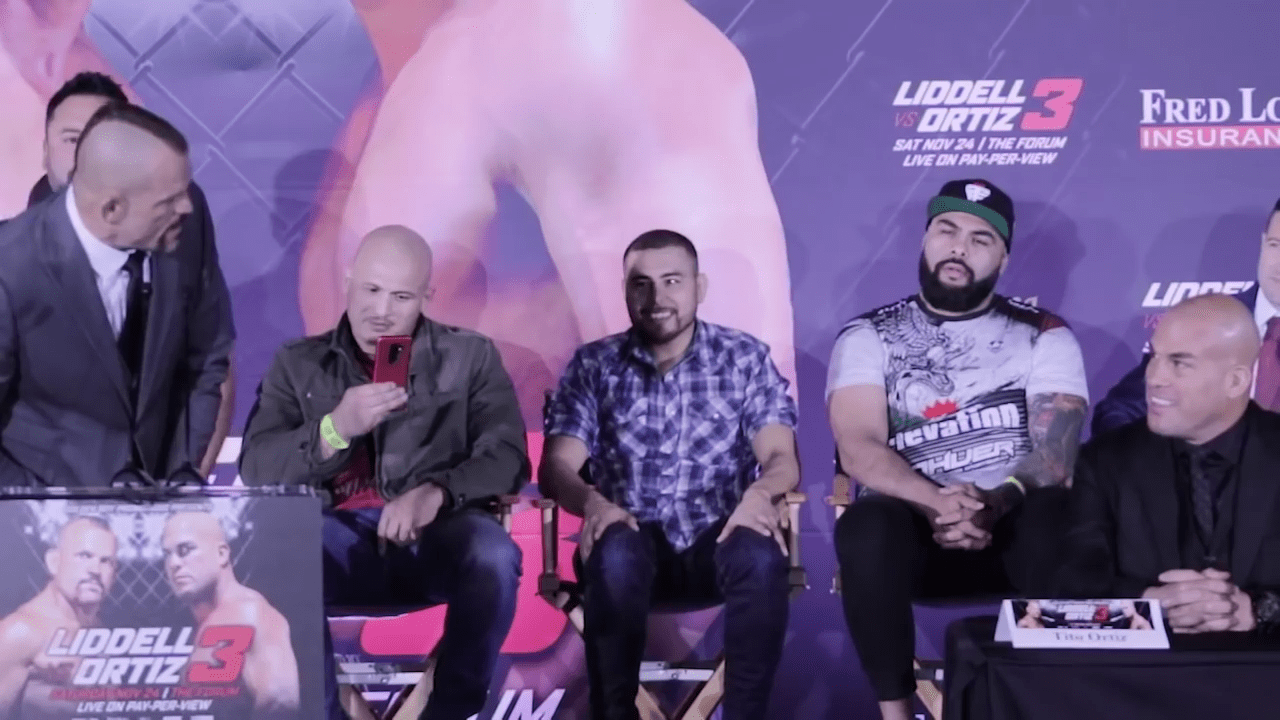 Well it happened, and the result was what many feared.
In their third contest, Tito Ortiz knocled a slow and aged Chuck Liddell out cold within the first round. Despite the fight receiving raised eyebrows in the lead up, plenty of fighters had comments to make on social media.
Check them out below.
Aight I just ended up ordering at my friends house on direct tv .. so I ordered twice 😂😂😊these two guys deserve the $$ , talk as much shit as you like but both guys gave enough of their life to the sport to earn your 40-50 dollars
Fuck all the haters! Let's go @ChuckLiddell

— Jake Shields (@jakeshieldsajj) November 25, 2018
Let's go @jaysilvamma! #LiddellOrtiz3 who's watching @FiteTV

— #CyborgNation #UFC232 (@criscyborg) November 25, 2018
You call up ol'Oscar
Who's so bored he's stressin'
And if you can catch him
When he isn't cross-dressin',

— Chael Sonnen (@ChaelSonnen) November 25, 2018
And you say
Yeah, we know
We're both past our primes
But between us we don't have a
Sock-full of dimes

— Chael Sonnen (@ChaelSonnen) November 25, 2018
So let's start a promotion
And pick out a venue
Then offer some cast-offs and bums
On the menu

— Chael Sonnen (@ChaelSonnen) November 25, 2018
And maybe, just maybe,
There's enough folks
Who won't see this as a cash-grab
Between rwo old jokes

— Chael Sonnen (@ChaelSonnen) November 25, 2018
Cause they both are shot
Tito's a mess
And a refrigerator-box
Is Chuck's new address

— Chael Sonnen (@ChaelSonnen) November 25, 2018
All dolled up and headed to the @chuckliddell fight. Let me know if you can see my loud-ass suit on Pay Per View! #ChuckVsTito3 pic.twitter.com/tb2OI7PqLw

— Steve-O (@steveo) November 25, 2018
I've never bout a @ufc ppv but I bought #ChuckTito3 #WTFIsWrongMe

— Jordan Johnson (@doublejmma) November 25, 2018
Let's go!
THE HUNTINGTON BEACH BAD BOY!
@titoortiz1999 #liddellortiz3 #titoortiz
@Primetime360ESM @titoortiz pic.twitter.com/qnY8GUWACL

— Gabi Garcia 🥇 (@gabijiu) November 25, 2018
I gotta go with the Iceman myself , love to see him get it done #OG

— Eddie Alvarez (@Ealvarezfight) November 25, 2018
I gotta say Tito should take this…🤷🏾‍♂️ Chuck just didn't look good on the pads at all IMHO. But a fight is a fight. Not pad work https://t.co/ygmPJHVt34

— Aljamain Sterling (@FunkMaster_UFC) November 25, 2018
I'm kinda scared for the health of these two….#LiddellOrtiz3

— Corey Anderson UFC (@CoreyA_MMA) November 25, 2018
And these guys are making dough for these 🤦🏾‍♂️🤦🏾‍♂️🤦🏾‍♂️

— Michael Johnson (@FollowTheMenace) November 25, 2018
Sad……

— Daniel Cormier (@dc_mma) November 25, 2018
Did not enjoy the end of that fight. Feel for iceman. Legends should t go out like this. I wish it was a 3 round war that went to a decision #LiddellOritz3

— Ricardo Lamas (@RicardoLamasMMA) November 25, 2018
Congratulations @titoortiz vs @ChuckLiddell
Great fight! Amazing Show! #changethegame

— #CyborgNation #UFC232 (@criscyborg) November 25, 2018
that was hard to watch Chuck doesn't deserve that he needs to stay retired

— Dillon Danis (@dillondanis) November 25, 2018
–
Comments
comments