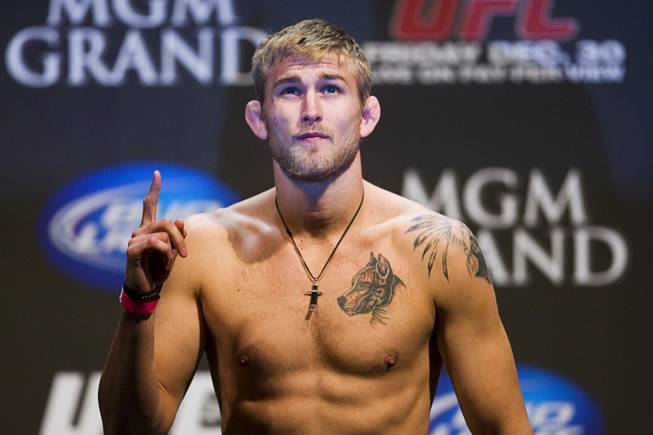 When Alexander Gustafsson sent Glover Teixeira to the canvas in Stockholm, it was the culmination of one of the Swede's most impressive performances.
Repeatedly dropping Teixeira with multiple punch combinations, Gustafsson eventually earned his victory in the fifth round, knocking out the Brazilian after a series of devastating blows.
Naturally, his win — along with Teixeira's toughness — received plenty of praise from well known figures in the mixed martial arts community, including one particularly interesting comment who was once known as 'Rumble'.
I'm getting that itch!
Show these boy's how to throw an uppercut the Right way!

— Anthony Johnson (@Anthony_Rumble) May 28, 2017
@AlexTheMauler beautiful finish #UFCstockholm

— JIMI MANUWA (@POSTERBOYJM) May 28, 2017
Look at weak ass @POSTERBOYJM clapping and shouting like a cheerleader for alex Haha he gon give alex his title shot!

— Daniel Cormier (@dc_mma) May 28, 2017
Gustafsson is a brilliant performer. His technique is clearly matching his mental ability now. Great chance of being Sweden's 1st UFC champ

— Coach Kavanagh (@John_Kavanagh) May 28, 2017
The @UFC LHW division is by no means deep, but the top guys are the baddest dudes on Earth. Huge props to Glover and Gus. #UFCStockholm

— Sean O'Connell (@realOCsports) May 28, 2017
Those uppercuts maaaaanne! 🗣💪 #UFCStockholm

— Angela Hill (@AngieOverkill) May 28, 2017
Fuck wow @btsportufc

— Neil 2 Tap Seery (@NeilSeeryMMA) May 28, 2017
Holyfucking shit gus!!!!@AlexTheMauler #ufcstockholm

— Emil Valhalla Meek (@emilvalhalla) May 28, 2017
I'm not crying; you're crying!!! #ufcstockholm https://t.co/h7cZ2mJDuu

— The Spartan (@EliasTheodorou) May 28, 2017
That was sick! Triple uppercut! Gus looks like the best version he's ever been! 👏🏽 #UFCStockholm

— Cub Swanson (@CubSwanson) May 28, 2017
—
Comments
comments