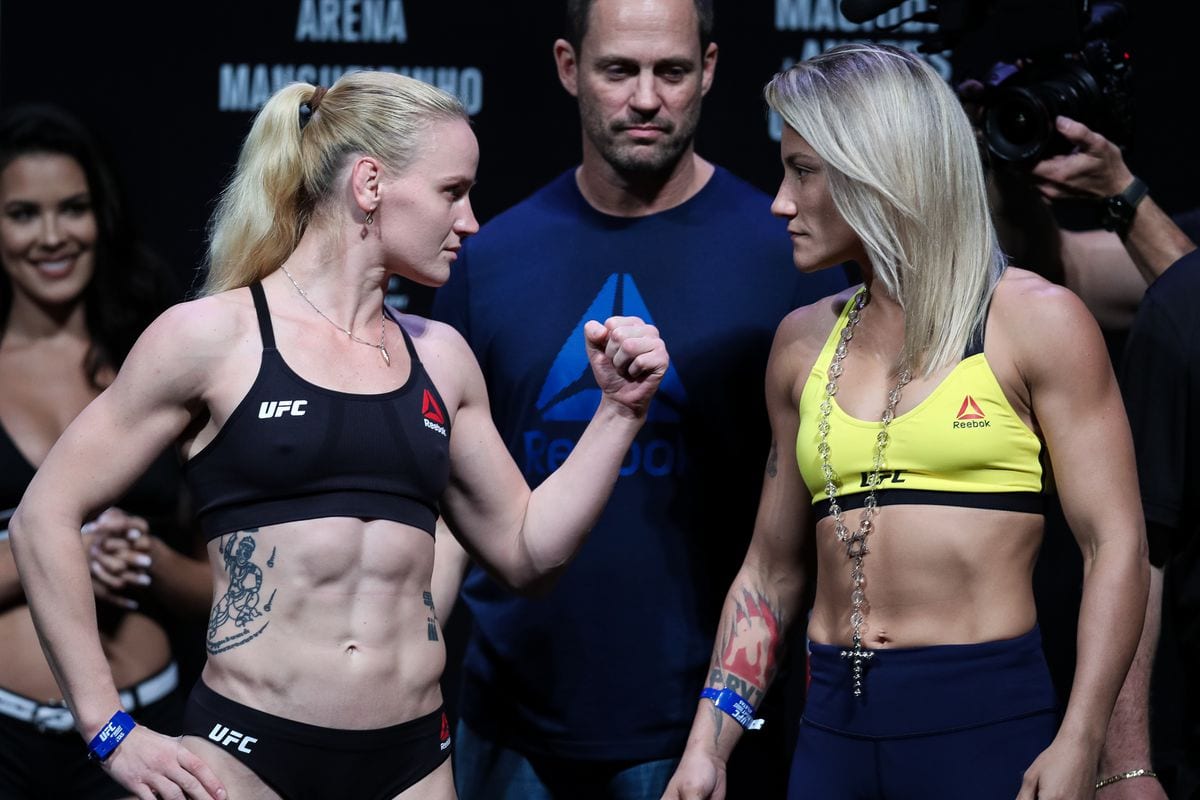 At last weekend's UFC event in Belem, Brazil, referee Mario Yamasaki drew the considerable ire of many watching — including UFC president Dana White — for his handling of the co-main event between Valentina Shevchenko and UFC newcomer Priscila Cachoeira.
Before winning by rear naked choke submission late in the second round Shevchenko unleashed a brutal assault on the up-to-then undefeated Brazilian, appearing on the verge of earning a TKO victory on numerous occasions. Yamasaki, though, continually allowed Cachoeira the opportunity to weather the considerable storm past the point when many officials would have likely called off the bout.
This display led to White criticising Yamasaki on social media, while simultaneously hailing Cachoeira's fighting spirit.
"Priscilla Cachoeira, you showed so much heart and toughness in that fight," White wrote on Instagram. "I'm honored to have you fight in the UFC. Unfortunately the ref is there to protect you and Mario DID NOT do that. This isn't his first disgusting performance in the octagon. Another unfortunate thing is that i can't do anything about. Only the Brazilian commission can and i am hoping after this scary, incompetent showing he hopefully will never set foot in that Octagon again."
While that sentiment may intensify the debate as to whether Yamasaki's officiating was in Cachoeira's best interests, her camp certainly seems to agree with it.
In a statement released via her social media, the Brazilian fighter says that she would never consent to her corner throwing in the towel.
"I ask for forgiveness to my fans, friends and family that threw a party to watch my fight. I fought a really tough fighter, who I'm a fan of, and I wasn't the real 'Pedrita' in the fight. Who knows me and followed my daily training knows what I could have done. And even with the knee injury early in the fight, I went until the end because I don't know what giving up means. I'll have to have surgery on the ACL and meniscus. And there's people still talking about me fighting the top 1 and etc, that my master told me to shut up and blah blah LOL.
"I'll fight against any fighter in the world, no matter which position she is [in the ranking]. I'd fight Valentina 10 times more without thinking twice. Who chooses easy battles is not a real warrior. The treatment and intimacy that I have with my master, the ones from outside doesn't know anything to criticize. This is not master and student, it's father and daughter, and no one can say how he should treat me. And about throwing in the towel, this is PRVT and we're the ones that know our limits. Throwing in the towel, never.
"Thank you for all the messages of love and support I've been receiving. I'm sure I've gotten a family for the rest of my life. And those who are criticizing, I don't care, I'll come back stronger. 'A moment will not erase a history.'"
The knee injury referenced by Cachoeira will likely mean it will be 2019 before she gets another opportunity in the new women's flyweight division. Shevchenko, meanwhile, has likely cemented her place among the top contenders for Nicco Montano's title.
Comments
comments